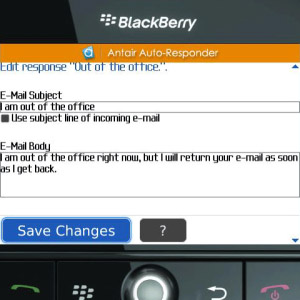 Tag:
bold
curve
torch
Pearl
tour
antair
AutoResponde
Overview :
free Antair AutoResponder v1.4.0 for blackberry apps download
Model:
Blackberry 81XX Series (240*260) Pearl Devices Models: 8100, 8110, 8120, 8130/Blackberry 82XX Series (240*320) Pearl Flip Devices Models: 8200, 8220, 8230/Blackberry 8350i (320*240) Related Devices Model: 8500, 8520, 8530, 9300(Kepler), 9330/Blackberry 83XX Series (320*240) Curve Devices Models: 8300, 8310, 8320, 8330 / Blackberry 87XX Series (320*240) Devices Models: 8700c, 8700r, 8700f, 8700g, 8703e, 8707, 8707g, 8707v .etc /Blackberry 88XX Series (320*240) Devices Models: 8800, 8820, 8830 .etc /Blackberry 89XX Curve Series (480*360): 8900(Javelin), 8910(Atlas), 8930, 8950, 8980/Blackberry 90XX Bold (Onyx) Series (480*320) Devices Models: 9000, 9020(Onyx)/Blackberry 96XX Tour (Niagara) Series (480*360):9600, 9630, 9650(Tour2), 9700(Bold2), 9780, Dakota, Apollo /Blackberry 95XX Storm Series (360*480):9500, 9510, 9520, 9530, 9550(Storm2), 9570(Storm3), 9800(Torch), 9810/9850/9860(Torch2)/Blackberry Pearl 3G Series (360*400) Devices Models: 9100, 9105, 9670(Style)/Blackberry 99XX (OS 7.0) Series (640*480) Devices Models: 9900, 9930

Description
Automatic Custom Responses to Incoming E-Mail
Let them know you're in a meeting, without picking up your BlackBerry.
Antair E-Mail Auto-Responder for the BlackBerry allows you to set up custom, automatic e-mail replies to deal with your incoming e-mail.
If you are expecting e-mail from clients, Antair E-Mail Auto-Responder will automatically let them know that you have received their e-mail. There is no need to keep checking your INBOX every few minutes.
If you are in a meeting and expect to receive personal e-mail from a family member, your Antair E-Mail Auto-Responder will let them know exactly where you are, and when they can expect to receive a reply from you.
With support for multiple responses, you can have one auto-response going out to your co-workers, while a different one goes out to your family members - even for the same e-mail account.
Your personal contacts are ready to go. Antair Auto-Responder integrates all of your personal BlackBerry contacts. Fully searchable, and selectable with one click, you can easily build custom auto-replies for your friends and colleagues.
Expecting e-mail from the office? You can easily design custom responses which will be sent to specific domains - useful for automatically responding to any colleague sending you e-mail from the office.
Unlimited custom responses can be created as needed. You can have one response going out to family members, and a different response going out to your colleagues or clients.
Each of your e-mail accounts can have a global catch-all response which will be sent to unexpected senders. If a custom response isn't suitable, a catch-all response will be sent instead.
Full support for personal and corporate device. Antair Auto-Responder supports both personal (BIS) as well as corporate (BES) BlackBerry devices. You can have global catch-all and custom auto-responses for each e-mail account on your device.