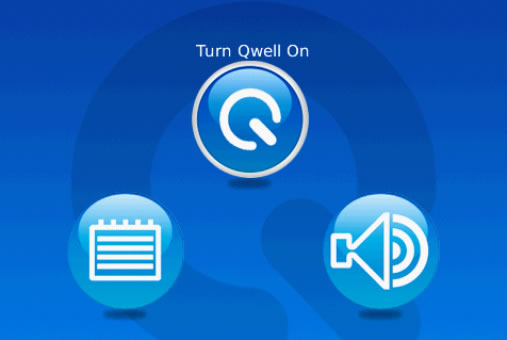 Tag:
curve apps
Qwell
Overview :
free Qwell for blackberry curve apps
Description:
Qwell is an exciting new service that gives you back control of your mobile privacy. With a single click of a button you can eliminate annoying untimely calls while still letting the urgent ones through. Disconnect responsibly!
How often do you want to silence your phone but you're afraid of missing an urgent or emergency call? So you leave the ringer on and inevitably the wrong call at the wrong time disrupts your sleep or your personal time!
Qwell solves the problem with a single click of a button. There is no setup involved, and no need to create a black or white list of contacts.
When in Qwell mode, Callers will hear that you are not taking calls at this time unless it is urgent. If the call is urgent, Qwell will alert you so you do not miss the call! If the call is not urgent, caller can leave a voicemail or simply hang-up without your phone ringing. You will get a record in Qwell log so you can call back when you are free to do so.
Qwell features an Email Delivery System for Voicemail. Aside from listening to your voicemail on your phone, you can also conveniently listen to your voicemail right from your computer or tablet. (Great in the event of a lost, dead or stolen phone.) You can listen to your voicemails in the order you choose. You can also organize and forward your voicemails.
Finally you can sleep through the night, spend time with your family or focus on work/studies without disruption. With Qwell you get true privacy with peace of mind.
Qwell is free to download and free to use for first 14 days. No credit card is required. After free trial, Qwell subscription is only $3.99/month. Give Qwell a test drive, you will love it!
(Service is available only in the U.S.)
Made by: Qwell Technologies

Model:
Blackberry 82XX Series (240*320) Pearl Flip Devices Models: 8200, 8220, 8230/Blackberry 8350i (320*240) Related Devices Model: 8500, 8520, 8530, 9300(Kepler), 9330/Blackberry 83XX Series (320*240) Curve Devices Models: 8300, 8310, 8320, 8330 / Blackberry 87XX Series (320*240) Devices Models: 8700c, 8700r, 8700f, 8700g, 8703e, 8707, 8707g, 8707v .etc /Blackberry 88XX Series (320*240) Devices Models: 8800, 8820, 8830 .etc /Blackberry 89XX Curve Series (480*360): 8900(Javelin), 8910(Atlas), 8930, 8950, 8980/Blackberry 90XX Bold (Onyx) Series (480*320) Devices Models: 9000, 9020(Onyx)/Blackberry 96XX Tour (Niagara) Series (480*360):9600, 9630, 9650(Tour2), 9700(Bold2), 9780 /Blackberry 95XX Storm Series (360*480):9500, 9510, 9520, 9530, 9550(Storm2), 9570(Storm3), 9800(Torch)/Blackberry Pearl 3G Series (360*400) Devices Models: 9100, 9105, 9670(Style)