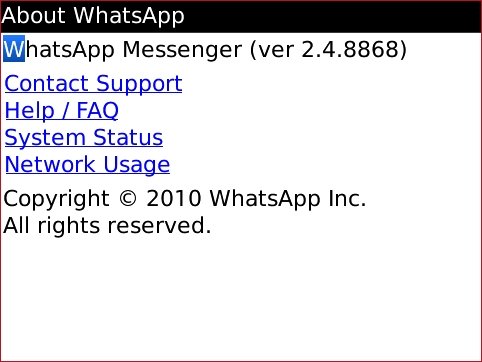 Tag:
Whatsapp
Overview :
free Whatsapp 2.4.8868 for Blackberry apps

WhatsApp Messenger is a smartphone messaging app which allows you to exchange messages with your friends and contacts without having to pay for SMS. WhatsApp Messenger is cross platform and available for iPhone, BlackBerry, Android and Nokia (beta) and yes, those phones can all message each other! To send and receive messages, WhatsApp utilizes your existing smartphone internet data plan: 3G/EDGE (or Wi-Fi when available)
In addition to messaging, BlackBerry WhatsApp Messenger users can send each other unlimited images, video and audio media messages.

Model:
Blackberry 82XX Series (240*320) Pearl Flip Devices Models: 8200, 8220, 8230/Blackberry 8350i (320*240) Related Devices Model: 8500, 8520, 8530, 9300(Kepler), 9330/Blackberry 83XX Series (320*240) Curve Devices Models: 8300, 8310, 8320, 8330 / Blackberry 87XX Series (320*240) Devices Models: 8700c, 8700r, 8700f, 8700g, 8703e, 8707, 8707g, 8707v .etc /Blackberry 88XX Series (320*240) Devices Models: 8800, 8820, 8830 .etc /Blackberry 89XX Curve Series (480*360): 8900(Javelin), 8910(Atlas), 8930, 8950, 8980/Blackberry 90XX Bold (Onyx) Series (480*320) Devices Models: 9000, 9020(Onyx)/Blackberry 96XX Tour (Niagara) Series (480*360):9600, 9630, 9650(Tour2), 9700(Bold2), 9780 /Blackberry 95XX Storm Series (360*480):9500, 9510, 9520, 9530, 9550(Storm2), 9570(Storm3), 9800(Torch)/Blackberry Pearl 3G Series (360*400) Devices Models: 9100, 9105, 9670(Style)