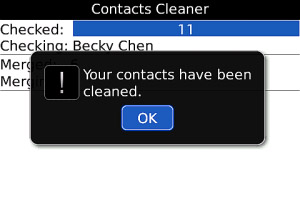 Tag:
9900 apps
9930 apps
Contacts
Cleaner
Overview :
Contacts Cleaner v2.6.0 apps for blackberry
Model:
Blackberry 81XX Series (240*260) Pearl Devices Models: 8100, 8110, 8120, 8130/Blackberry 82XX Series (240*320) Pearl Flip Devices Models: 8200, 8220, 8230/Blackberry 8350i (320*240) Related Devices Model: 8500, 8520, 8530, 9300(Kepler), 9330/Blackberry 83XX Series (320*240) Curve Devices Models: 8300, 8310, 8320, 8330 / Blackberry 87XX Series (320*240) Devices Models: 8700c, 8700r, 8700f, 8700g, 8703e, 8707, 8707g, 8707v .etc /Blackberry 88XX Series (320*240) Devices Models: 8800, 8820, 8830 .etc /Blackberry 89XX Curve Series (480*360): 8900(Javelin), 8910(Atlas), 8930, 8950, 8980/Blackberry 90XX Bold (Onyx) Series (480*320) Devices Models: 9000, 9020(Onyx)/Blackberry 96XX Tour (Niagara) Series (480*360):9600, 9630, 9650(Tour2), 9700(Bold2), 9780, Dakota, Apollo /Blackberry 95XX Storm Series (360*480):9500, 9510, 9520, 9530, 9550(Storm2), 9570(Storm3), 9800(Torch), 9810/9850/9860(Torch2)/Blackberry Pearl 3G Series (360*400) Devices Models: 9100, 9105, 9670(Style)/Blackberry 99XX (OS 7.0) Series (640*480) Devices Models: 9900, 9930
Description:
Contacts Cleaner finds and merges duplicate contacts in your address book. Contacts Cleaner is an easy way to fix a large address book bloated with many duplicate contacts. With a single click Contacts Cleaner quickly and efficiently eliminates duplicate contacts.
Contacts Cleaner is intended to quickly and significantly reduce the clutter in your address book. As such, it is completely automated and does not pause for guidance on how to merge contacts. Contacts Cleaner will processes your entire address book in one pass.
The cleaning process first identifies duplicate contacts. Duplicate contacts have the same name first and/or last name for persons, and company name for organizations . Then, within each pair of duplicates, one contact is selected as the duplicate and the other contact is retained in the address book. The data contained in the duplicate contact is copied over to the retained contact. Finally, the duplicate contact is then removed from the address book.
RECENT PRESS
App Appears on Page 30 in Book: Brilliant BlackBerry® Apps. Now selling on Amazon.
AOL Small Business selects Contacts Cleaner as a top BlackBerry® App:
http://tinyurl.com/2ev6e9y
Fidelity Investments selects Contacts Cleaner as top 12 App
http://tinyurl.com/26ffgqn
Contacts Cleaner makes RIM's top 9 BlackBerry® app list
http://tinyurl.com/2ets2fd