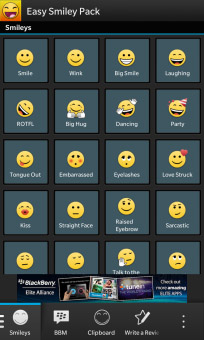 Tag:
Easy Smiley
Overview :
S4BB Limited updated their popular Easy Smiley Pack application. The update adds a variety of new features and new options to the Built for BlackBerry™ certified app. Additionally, several bugs have been fixed to greatly increase the usability. The app now includes all of these great features:
Access to hidden smileys and emoticons right inside BBM™
820+ Smileys, flags, and ASCII art images in total
NEW: 70+ emoticons added through the update
BBM™ status customization
Plugs into BBM through BBM Connected
NEW: Statistics section added to the options
Easy Smiley Pack is compatible with all BlackBerry® 10 Smartphones & BlackBerry Legacy® OS and is available at BlackBerry World™.