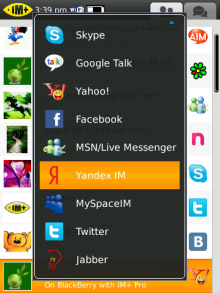 Tag:
IM+
Overview :
IM+ v10.4 for blackberry os5.0 apps
size: 4.54 MB
Model:
Pearl 9100 3G, Pearl 9105 3G, Curve 8520, Curve 8530, Curve 8900, Curve 8910, Curve 8980, Bold 9000, Curve 9300 3G, Curve 9330 3G, Tour 9630, Bold 9650, Bold 9700, Storm 9500/9530, Storm2 9550/9520

Description:
IM+ has all your messaging needs covered, regardless of whether you want to text your address book contacts, stay in touch with your IM contacts or socialize with people around you.
IM+ supports all major IM services, including Facebook, Skype, MSN/Live Messenger, Google Talk, Yahoo!, AIM/iChat, ICQ, Mamba.Ru, Mig33, SINA Weibo, Odnoklassniki.Ru, Jabber, VKontakte, Yandex IM, RenRen and Mail.Ru Agent. We thought you might want to check up on Twitter while messaging, so we added support for it, too.
NEIGHBORS offer a totally new dimension of communication in IM+ by providing you the opportunity to find new real life connections and friends with common interests in your local area. See who's your Neighbor on the map, dive into local group conversations, "shout" to ask your neighbors questions that are important for you. It's all about your local community!
Below you may find the list of other amazing features which will definitely take your mobile IM experience to the next level:
- Send text messages, photos, videos, and voice notes
- Group chats in Skype, MSN, AIM, ICQ.
- Chat history, accessible in IM+ on your device and from any web browser at https://plus.im
- Create personal status messages
- Customize your IM+ look and feel with custom sound notifications and emoticons
…and we're not done yet, new IM+ features will keep coming!
Follow @implus on Twitter and Like www.facebook.com/plusim to get the latest updates from IM+ team!
This product uses Skype™ but is not endorsed or certified by Skype.
TRADEMARKS:
IM+ is a registered trademark of SHAPE.
AIM is a registered trademark of AOL LLC.
ICQ is a trademark owned by ICQ.
Yahoo! is a registered trademark of Yahoo Inc.
MSN, Windows Live™ are registered trademarks of Microsoft Corporation.
Jabber is a registered trademark of Jabber Inc.
Google™ Talk is a trademark of Google Inc.
MySpace.com™ is a trademark of MySpace Inc.
Facebook is a trademark of Facebook, Inc.
Skype™ is a trademark of Skype Technologies S.A.