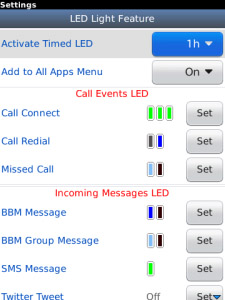 Tag:
LED
also​oz
Advance
Overview :
Advance OS and LED v12.1.2 for OS 4.6,4.7,5.0,6.0,7.0 apps
size: 217 KB
model: Pearl Flip 8220, Pearl Flip 8230, Pearl 9100 3G, Pearl 9105 3G, Curve 8520, Curve 8530, Curve 8900, Curve 8910, Curve 8980, Bold 9000, Curve 9300 3G, Curve 9330 3G, Tour 9630, Bold 9650, Style 9670, Bold 9700, Bold 9780, Bold 9788, Curve 9220, Curve 9350, Curve 9360, Curve 9370, Storm 9500/9530, Storm2 9550/9520, Torch 9850/9860, Torch 9800, Curve 9380, Bold 9790, Torch 2 9810, Bold 9900/9930, 9981

Description:
(MAKE SURE YOU HAVE VERSION 12.1.2 OF THIS APP)
* Read your messages (BBM,Email,SMS) without opening any app or even touching your phone (will show contact name & picture, message time & text).
* Know who is contacting you (BBM,Email,SMS,Call) and more (Battery,Network, All Apps Notifications) using just LED Light.
* Backup, Restore & Email All Contacts (with photos), Export to (Excel,Outlook,Gmail,Yahoo), Find/Merge Duplicate Contacts and Move All Contacts to Default list, Manage multiple contact lists.
* Schedule repeated audible Alerts for BBM,Email,SMS,Missed Calls,Battery (anything you miss but is important to get your attention).
* Instant Shortcuts Launcher to start apps, open websites, call friends, automate your fav actions, display date, time, battery and wifi status from any screen.
* Take Screenshots with no watermarks (even from apps with no menu, also popups screens).
* Use Camera, LED or Screen Light as FlashLights with no time limits.
* Keep screen light on for as long as you want when charging or by just pressing assigned key.
* Provides a sound profile for your battery status (makes sound when you start, stop charging or full battery).
* Wallpaper Changer will change your homescreen background (wallpaper) everytime you look at your screen.
* Set call duration vibration reminders while in a call.
* Prompt for call redial, and save unknown numbers after phone calls.
* Set Auto Loud Speaker and vibrate on call connect and more.
* Vibrate when pressing virtual or physical keypad.
* Visit facebook.com/AdvanceOS to post help questions to get quick answers (and direct download)*
# More details about few features in Version v12:
--- BBM Features ---
- Read BBM messages without your friends seeing 'R's.
- Auto Delete your chat history.
- Assign an LED light for Each BBM Contact (unlimited).
- Filter your BBM Chat popups.
--- LED Features ---
- LED Effects: Fade/Mix or Blink LED light colors. (NO OTHER APP PROVIDES FADE/MIX LED EFFECTS)
- LED Color Picker: More than 100 colors and shades available using a color picker, up to 4 colors per contact or app and 14 effects per color.
- LED Caller ID: Unlimited contacts including unlimited BBM contacts.
- LED Night Profile: schedule what LED Lights you want to auto disable or lower color brightness at night.
--- Popup Feature ---
- Popups can Mark as read/ delete/ call/ Launch app/ reply/ forward and so much more.
- Popups can wake up phone screen from standby, no more touching your phone to see the messages.
--- Additional App Features ---
- Backup / restore all settings with option to send as an email attachment.
- Is EXTREMELY small in SIZE, with very small BATTERY & memory utilization, COMPARE.