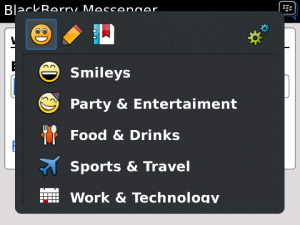 Tag:
Characters
Fancy
fanc​yapp​s
Overview :
Fancy Characters v5.0.17 for bb OS 5.0 applications
size: 1.76 MB
model: Pearl 9100 3G, Pearl 9105 3G, Curve 8520, Curve 8530, Curve 8900, Curve 8910, Curve 8980, Bold 9000, Curve 9300 3G, Curve 9330 3G, Tour 9630, Bold 9650, Bold 9700, Storm 9500/9530, Storm2 9550/9520

Description:
Make your friends surprised by smiles in BlackBerry® Messenger and fancy characters in EMAIL, SMS (GSM only), IM and PIN messages and status!

FEATURES:
---------------
- Unique BBM chat integration
- About 300 Colored Smiles and over 200 flags for BlackBerry® Messenger 5.0
- Integrates to any application
- All supported Unicode symbols and characters
- Several categorized tabs for easy characters access
USAGE:
---------------
1. After App Installation you will not see any new application icon
2. Click Menu button and then click "Insert Fancy Char" menu item
3. Click on any icon to insert to message
4. If application does not support direct integration then selected character will be stored in clipboard and you can paste it later
FAQ:
---------------
Q: It inserts ? instead of characters to the SMS
A: Go to options-sms and change encoding from 7bit to SC2. Unless you're on CDMA version. CDMA SMS is very limited and unfortunately does not support Unicode, although email/pin and others will work.
Q: Can I have more symbols
A: You have to install East Asian Language and Input Support in BlackBerry® Desktop Manager.
Those Asian fonts have all Unicode characters required. This applies to 5.0 OS mostly. Older devices may lack some symbols.
Q: Why cannot I see colored Smiles and Flags?
A: Those colored smiles works exclusively in BlackBerry® Messenger 5.0.0.57 so make sure you update your BlackBerry® Messenger first if needed (http://www.blackberry.com/messenger). You cannot insert colored smiles to any other app except BlackBerry® Messenger.


If you like the bb apps, Please share to your friends!