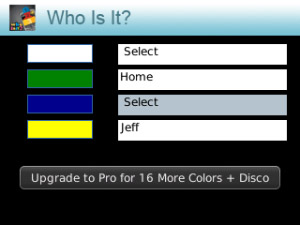 Tag:
Who is it
jar​edco​
Overview :
Who Is It v2.500 - LED Color Light Alerts for Contacts
OS 4.6,4.7,5.0,6.0,7.0
Model: Pearl Flip 8220, Pearl Flip 8230, Pearl 9100 3G, Pearl 9105 3G, Curve 8520, Curve 8530, Curve 8900, Curve 8910, Curve 8980, Bold 9000, Curve 9300 3G, Curve 9330 3G, Tour 9630, Bold 9650, Style 9670, Bold 9700, Bold 9780, Bold 9788, Curve 9350, Curve 9360, Curve 9370, Storm 9500/9530, Storm2 9550/9520, Torch 9850/9860, Torch 9800, Torch 2 9810, Bold 9900/9930

Description:
Finally, a BlackBerry® app that lets YOU decide whether to take the call, email, or SMS now or later with 'Who Is It'.
Using your BlackBerry's® front LED, assign up to 4 colors to different callers. Parents? Green. Boss? Yellow. Tax accountant? Blue, blue, blue.
You know who's on the line at a glance so you decide if this is a contact that needs attention now, or a call, email or SMS that can wait a while.
• Choose up to 4 different contacts and assign 4 different LED colors so you know who's on the line all of the time.
• You can easily stop blinking at any time with menu item in every menu.
• No reconfiguration required. Just download and set up 'Who Is It' with a few taps. It's designed to be easy, like all JaredCo apps.
• The user-friendly interface allows you to quickly set the LED color to your preferences and needs. Tap, tap, tap. Done.
• Change colors or contacts in just seconds.
When you're plugged in to the digital grid you know how important it is to manage your connections and your time. 'Who Is It' is the one app that does it all with nothing more than your BlackBerry's® LED. Sweet.
Add a little color to your life and to your BlackBerry®. And finally get organized with 'Who Is It – the energy-efficient, "at-a-glance" caller ID that puts connections under your control.
'Who Is It':
The Only Caller ID App You'll Ever Need
** After installing you may need to pull the battery to make sure the app is running.