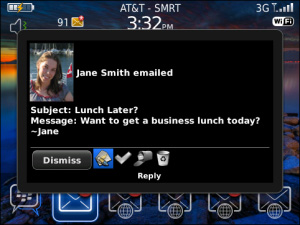 Tag:
SmrtAlerts
smrt​guar​d
Overview :
SmrtAlerts v3.55 - AWARD WINNING Email and SMS Alert

Required Device Software
4.2.0 or higher

Description:
(Updated with new feature - REPLY right from SMS / Email popup)
SmrtAlerts - THE ORIGINAL and AWARD WINNING Email and SMS Alert/Notifier! VOTED BEST UTILITY BY CrackBerry.
Don't you wish BlackBerry® had an email notifier popup like the one you are used to in MS Outlook or Gtalk Notifier Growl on the Mac . Stop wishing and get SmrtAlert. With it, you can get critical information from your emails fast.
With SmrtAlert, you can see who is emailing with brief email body while drafting another email, playing your favorite game or other tasks on your BlackBerry®.
Features:
* Preview email/sms from ANY application on your BlackBerry® even Homescreen.
* REPLY right from SMS / Email popup (**NEW)
* Fully Configurable - only see popup from the people matters to you.
* Application filter - Prevents popup in specified apps like phone app
* SPAM Blocker - Create Whitelist and Blacklist to filter emails and email popup. With Blacklist, you have the option to auto delete junk.
* Visually Stunning design
* No setup fuss. No pain. It Just Works!
* Complete integration with the existing email program.
* NEW - With Suspend Popup for 3 mins feature to prevent bulk popups after airplane mode
* FREE LIFE TIME UPGRADE
AWARDS
* Voted the 2008 BEST UTILITY BY CrackBerry.
* Best Alert App by BlackBerryCool Editor
* Featured on CIO Magazine and Laptop Magazine as must have BlackBerry® application