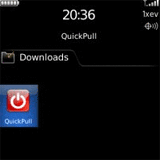 Tag:
QuickPull
Overview :
QuickPull v4.0.3 - free apps for blackberry curve

Description:
QuickPull is a FREE tool that frees memory quickly by simulating a "battery pull" soft reset. Unlike the red power button on your phone which merely shuts down your device temporarily, QuickPull does a full reset that clears your devices caches and can significantly increase performance while keeping all of your e-mails, contacts, etc. in tact!
Join the 1.5 million users today.
Model:
Blackberry 82XX Series (240x320) Pearl Flip Devices Models: 8200, 8220, 8230/Blackberry 8350i (320*240) Series: 8350i, 8500, 8520, 9300/ Blackberry 83XX Series (320*240) Curve Devices Models: 8300, 8310, 8320, 8330/Blackberry 87XX Series (320*240) Devices Models: 8700c, 8700r, 8700f, 8700g, 8703e, 8707, 8707g, 8707v .etc /Blackberry 88XX Series (320*240) Devices Models: 8800, 8820, 8830 .etc /Blackberry 89XX Curve Series (480*360): 8900(Javelin), 8910(Atlas), 8950/Blackberry 90XX Bold (Onyx) Series (480*320) Devices Models: 9000, 9020(Onyx)/Blackberry 95XX Storm Series (360*480): 9500, 9510, 9520, 9530, 9550(Storm2), 9800/Blackberry 96XX Tour (Niagara) Series (480*360): 9600, 9630 Niagara, 9650, 9670, 9700, 9780/Blackberry Pearl 3G Series (360*400) Devices Models: 9100, 9105