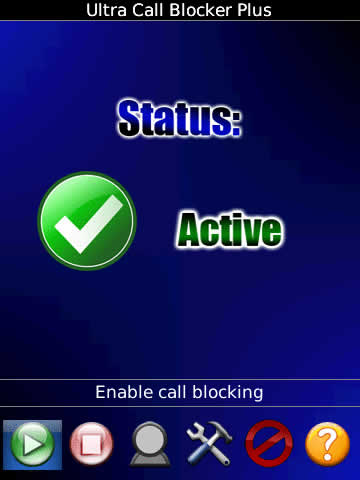 Tag:
Call
Blocker
Ultra
Overview :
free Ultra Call Blocker apps for blackberry
Get more control over who calls you with Ultra Call Blocker Plus. Stop telemarketers, harassing collection agencies, annoying auto dialing fax machines, or any other number or area code you do no wish to contact you with our advanced call blocking filters.
Besides a block list and an allow list, you can also create rules to run at certain times and days. Don't want anyone calling you while you are at work? Create a rule that blocks all calls during your work hours and work days. People waking you up at night when you are sleeping? You can make a rule to remedy that issue as well. The possibilities are endless and you can make as many rules as you need.
NOTE: If you are having any trouble with the app it may be because you need to manually set permissions to ALLOW. On most phones you should be automatically prompted to update permissions when you first open it.
NOTE: If anyone is having any issues or have suggestions, please e-mail me at cpqsoft@gmail.com first before posting negative feedback so I can assist with resolving the problem.
Features
Comptable with US and international numbers.
Backup settings to SD/Media card.
Optimized for speed.
3 Call Blocking Methods (Pick up and hang, send caller to Voicemail, or ignore caller and let go to Voicemail).
Fully configurable blocking filters (Toll free numbers, private/unknown numbers, area codes, contacts, and any group of numbers).
Block international area codes.
Allow list to exempt certain numbers from blocking filters.
Add numbers to block list manually or by clicking on block/unblock from your call log or contacts menu.
Blocks incoming call waiting calls.
Create many special rules to run at certain times and days (ie. block specific numbers, block all numbers, disable call blocking).
Ability to specify in the rule how you want that specific call to be blocked.
Add an entry to the calendar whenever a call is blocked.
Works when locked and holstered.
Password lock the allow, blocked, blocked call log, and settings.
Model:
Blackberry 9300(Kepler), 9330/Blackberry 89XX Curve Series (480*360): 8900(Javelin), 8910(Atlas), 8930, 8950, 8980/Blackberry 90XX Bold (Onyx) Series (480*320) Devices Models: 9000, 9020(Onyx)/Blackberry 96XX Tour (Niagara) Series (480*360):9600, 9630, 9650(Tour2), 9700(Bold2), 9780, Dakota, Apollo /Blackberry 95XX Storm Series (360*480):9500, 9510, 9520, 9530, 9550(Storm2), 9570(Storm3), 9800(Torch), Torch2/Blackberry Pearl 3G Series (360*400) Devices Models: 9100, 9105, 9670(Style)