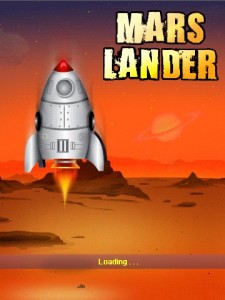 Tag:
Mars Lander
Overview :
Mars Lander v1.10 89,96,97 games
Model:
Blackberry 89XX Curve Series (480*360): 8900(Javelin), 8910(Atlas), 8930, 8950, 8980/Blackberry 96XX Tour (Niagara) Series (480*360):9600, 9630, 9650(Tour2), 9700(Bold2), 9780, Dakota, Apollo
Description:
You are the head of a space transportation company and your goal is to deliver exploration rovers to Mars.
You start off with a brand new Daedalus class spaceship and $60k in the bank. The successful delivery of your cargo will garner you monetary rewards and a new contract. However, if you crash, you must purchase a replacement ship from your banked funds. If you do not have enough money to purchase a new ship, then your career is over and you spend the remainder of your days at a remote base on the frozen arctic tundra collecting seal droppings.
There are five classes of spaceship. Each one costs more than the previous one, delivers a larger cargo and has more fuel.
There are a total of 25 missions available. As you progress upwards in mission levels the obstacles will become more difficult to navigate, you encounter wind storms and last few missions are even conducted at night.