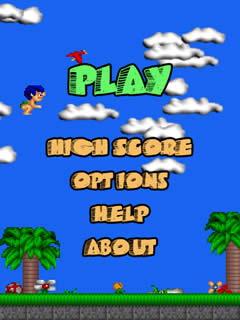 Tag:
Fre Jump
Overview :
Fre Jump v1.3.1 for blackberry games download
Description:
See how high up you can get Freddy by bouncing from ledge to ledge. Watch Freddy do crazy flips on his way up. Land on mushrooms and birds for extra bounce but don't worry, no birds were harmed in the making of Freddy Jump. Grab the umbrella to slow his fall just like the Mary Poppins maneuver. For truly skilled jumpers, grab the jet-pack to get a quick rocket. It's fun just to watch Freddy bounce.
Use your own music for the sound track or Freddy's preferred jumping music. Submit your high score over the internet and see where you rank.
Music & sound effects at the same time.
Animated graphics.
High score.
Submit high score to internet.
11 Different pick-ups.
BlackBerry Media player play-lists for sound track.
Submit high score to internet.
Save and resume between shut down and reboots.
STORM ONLY: Accelerometer controls Freddy.
Model:
Blackberry 82XX Series (240*320) Pearl Flip Devices Models: 8200, 8220, 8230/Blackberry 8350i (320*240) Related Devices Model: 8500, 8520, 8530, 9300(Kepler), 9330/Blackberry 83XX Series (320*240) Curve Devices Models: 8300, 8310, 8320, 8330 / Blackberry 87XX Series (320*240) Devices Models: 8700c, 8700r, 8700f, 8700g, 8703e, 8707, 8707g, 8707v .etc /Blackberry 88XX Series (320*240) Devices Models: 8800, 8820, 8830 .etc /Blackberry 89XX Curve Series (480*360): 8900(Javelin), 8910(Atlas), 8930, 8950, 8980/Blackberry 90XX Bold (Onyx) Series (480*320) Devices Models: 9000, 9020(Onyx)/Blackberry 96XX Tour (Niagara) Series (480*360):9600, 9630, 9650(Tour2), 9700(Bold2), 9780, Dakota, Apollo /Blackberry Pearl 3G Series (360*400) Devices Models: 9100, 9105, 9670(Style)