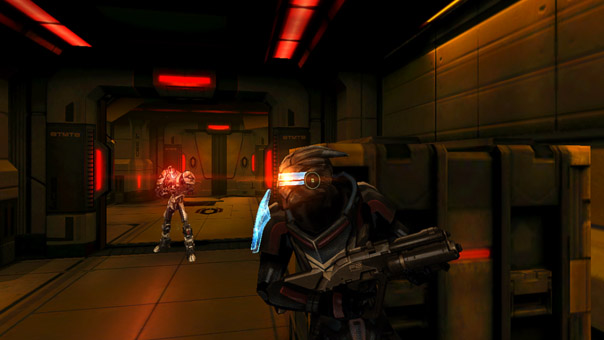 Tag:
BB10
BB10 games
Mass Effect
Overview :
A game of explosive Mass Effect officially land BB10 recently, and the game size to 339 MB, recommended download on the WIFI network environment, friends who like the blueberry powder can try sci-fi game.

Version: 1.1
file size: 339 MB
Required Device Software BB10 Smartphone: 10.0.0 or higher



O DESTINO DA GALÁXIA ESTÁ EM JOGO! Dos criadores do aclamado pela crítica Dead Space para dispositivos móveis, chega uma nova e original história de Mass Effect - feita para BlackBerry 10!
** Este jogo é GIGANTESCO (mais de 450 MB)! Recomendamos que você se conecte via Wi-Fi para acelerar seu download.**
VOCÊ É UM AGENTE CERBERUS REBELDE!!
Enquanto o Comandante Shepard luta contra os Reapers pela galáxia, Randall Ezno, um agente Cerberus veterano, procura alienígenas para experimentos ilegais em uma instalação secreta. Mas quando o Diretor da instalação vai longe demais, Randall reage e jura derrubar Cerberus!
Você consegue abrir caminho até a base hostil de Cerberus e entregar a pesquisa secreta para a Aliança?
ENTRE EM UMA NOVA DIMENSÃO NUM JOGO PARA BLACKBERRY
Mexa-se com liberdade em cenários gigantescos e na base Cerberus. Com gráficos inovadores e áudio aprimorado, desfrute de uma experiência similar à dos consoles para marcar o próximo avanço na jogabilidade do BlackBerry.
ENFRENTE INIMIGOS COM O SWIPE & TAP COMBAT
Use os controles de toque intuitivos em uma luta de ritmo acelerado, desfrutando da mira com auxílio ou manual. Mergulhe e role em busca de proteção com um simples toque. Entre em batalhas épicas contra Mechs Cerberus e vítimas de experimentos.
É SÓ VOCÊ CONTRA UM EXÉRCITO!
Controle a fúria das armas e armaduras de alta tecnologia. Libere poderes bióticos, habilidades furtivas e devastadores ataques corpo a corpo. Use créditos para aprimorar seu desempenho e equipamentos. Quanto mais rápidas e com estilo forem suas habilidades, mais créditos você receberá. Acesse também a missão-bônus de Turian e fuja da enfermaria... vivo!
FAÇA SUA EXPERIÊNCIA EM MASS EFFECT 3 SER IMPACTANTE
Colete informações importantes e carregue-as para Galaxy at War a fim de melhorar sua Classificação de Prontidão Galáctica em Mass Effect 3. Conclua o jogo para aumentar seus Equipamentos de Guerra. Aumente suas chances na batalha final de Mass Effect 3 - no celular!
Extermine Cerberus e modele o futuro da galáxia. O resultado só depende de VOCÊ em Mass Effect: Infiltrator!