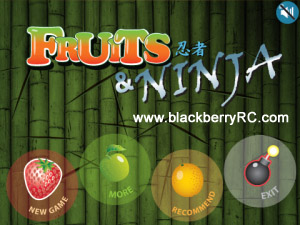 Tag:
Fruits
Ninja
9700 games
SolverLabs
Overview :
Free Fruits and Ninja v1.4.0 games for blackberry os5.0
OS 5.0
size:4.53 MB
model:Pearl 9100 3G, Pearl 9105 3G, Curve 8520, Curve 8530, Curve 8900, Curve 8910, Curve 8980, Bold 9000, Curve 9300 3G, Curve 9330 3G, Tour 9630, Bold 9650, Bold 9700, Storm 9500/9530, Storm2 9550/9520

Description:
Fruits and Ninja - slice your way to the top ranks of Juicy Ninjas! Beware of bombs, unlock hidden achievements! Fruit or berry - turn it into tiny pieces!
Fruits and Ninja includes three gameplay modes - Classic, Zen and the amazing Arcade mode, featuring bonuses including Freeze, Add time and Double Score!
You can unlock achievements and post scores to online leaderboards.
NOTE:
- you can change sound volume by multimedia key on the phone