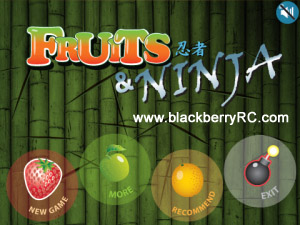 Tag:
Fruits
Ninja
9860 games
9981 games
Overview :
Free Fruits and Ninja v1.4.0 games for blackberry os7.0
size:6.27 MB
model: Torch 9850/9860, Torch 2 9810, Bold 9900/9930, 9981

Description:
Fruits and Ninja - slice your way to the top ranks of Juicy Ninjas! Beware of bombs, unlock hidden achievements! Fruit or berry - turn it into tiny pieces!
Fruits and Ninja includes three gameplay modes - Classic, Zen and the amazing Arcade mode, featuring bonuses including Freeze, Add time and Double Score!
You can unlock achievements and post scores to online leaderboards.
NOTE:
- you can change sound volume by multimedia key on the phone