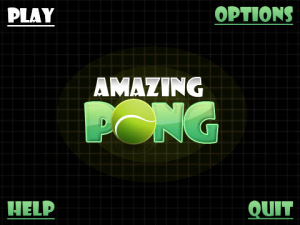 Tag:
97xx
96xx
89xx
Amazing Pong
Overview :
FREE Amazing Pong v1.0.1 for bb 89xx,96xx,97xx games
OS 4.6, 5.0, 6.0
Model: Curve 8900, Curve 8910, Curve 8980, Tour 9630, Bold 9650, Bold 9700, Bold 9780, Bold 9788

Description:
Amazing Pong FREE is a fascinating, familiar to everyone game. The game that hooks you immediately and don't let you get bored!!
So do you want to do some sports, at least virtually?
Impossible is nothing! Amazing Pong FREE is at your service!
Let's play Ping-Pong!!!
This game has two modes of playing classic and crazy:
- classic – during the match a player can move the racket up and down;
- crazy – the racket moves not only up and down, but to the left and to the right, moreover one can pick up some elements that all of a sudden appear on the field.
A player can also choose the level of difficulty and wins mode.
FEATURES:
- 2 MODES OF PLAYING;
- 3 DIFFERENT BACKGROUND THEMES;
- 3-4 TYPES OF COURTS (WITH OBSTACLES INCLUDING);
- SUPERB GRAPHICS;
- AMAZING SOUND.
Amazing Pastime it's Amazing Pong FREE!!!
***** Have Fun! *****
If you like this app - please leave a good review. If you don't like it, please contact us first and we will be able to fix your problem for you!
~~ With Love, Your TSV !!! We are the Champions =) ~~