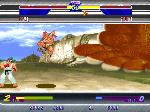 Tag:
Street
8520 games
Fighter
Alpha
Overview :
free Street Fighter Alpha for blackberry 8520 games
Model:
Blackberry 8350i (320*240) Related Devices Model: 8500, 8520
Description:
Choose from 12 unique warriors and become the world champion. Play all eight characters from the original Street Fighter II arcade game as well as well as the four playable boss characters, and master a variety of moves and special attacks unique to each! And for the true Street Fighter aficionado, Street Fighter II': Champion Edition features a near key-press-for-key-press carbon copy of series' classic fighting system, with all the moves, sounds and combinations you remember.
•Experience an all new line up of warriors – Ryu, Chun-Li, Charlie, Ken, Guy, Birdie, Sodom, Adon, Rose, Sagat, M. Bison, Akuma and Dan
•New super combo gauge allows player to unleash devastating Super Combo attacks
•Air Blocking and Chain Combos techniques add another exciting layer to the fight
•Save your progress after each match as you work your way to victory