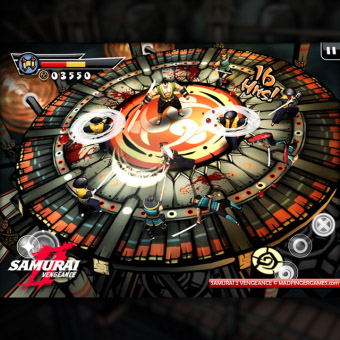 Tag:
BB10
Vengeance
Overview :
Samurai II : Vengeance - Wield the sharp edge of a katana in the most visceral action game to ever hit a mobile phone—Samurai II: Vengeance sends you on a quest to hunt down the demon lord Orochi. Across a ravaged countryside, atop a flying fortress, even to the legendary Isle of the Dead, you must stop at nothing to claim your honor and exact vengeance on the forces of evil that plague feudal Japan.

Version: 1.2
File Size: 47 MB
Required Device Software Tablet: 1.0.7 or higher
BB10 Smartphone: 10.0.0 or higher

Features:
•Slice up enemies with the samurai's ultimate weapon: the katana
•Balanced combat system encourages defensive maneuvers in concert with fierce attacks
•Solve puzzles to make your way through vivid levels packed with color and detail
•Reap the rewards of combat by using points to upgrade your health, unlock new skills, and upgrade your existing attack combos
•An original soundtrack draws you into the Japan of old
•New survival mode gives you an opportunity to hone your skills
Check out other Union games: Falling Fred, Kona's Crate, and Burn the City!