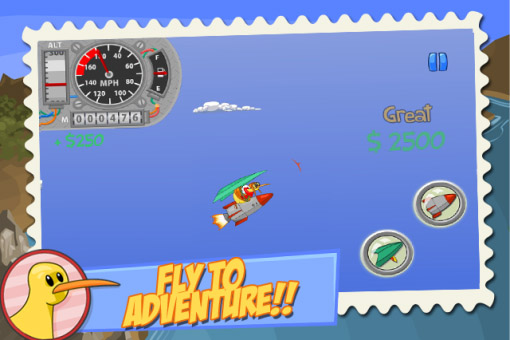 Tag:
Fly Kiwi Fly
Overview :
Fly Kiwi, Fly is a old game of the Playbook, it has just been listed when the Playbook come out the market . Kiwi is a kind of flightless birds, you want to control it flys as far as possible in the game, because there is a legend, Kiwi bird can only have one flight in their life, because when they get to the ground is the end of their life.
Version: 2.0.1
file size: 74 mb
Required Device Software Tablet: 1.0.0 or higher
BB10 Smartphone: 10.0.0.0 or higher



Fly Kiwi Fly! - ClassicFREE
DownloadByRock N Roll Games - Casual Games For All Ages
Write a review----- Now enjoy the complete classic version of the game completely for FREE!!! -----
NOTHING CAN STAND BETWEEN KIWI AND HIS WILL TO FLY :D!
We bring to you a game that ranked (Source: AppAnnie http://bit.ly/TmGF8J):
#1 most downloaded paid app in UK on other stores
#1 most downloaded paid app in France on other stores
#2 most downloaded paid app in the US on other stores
#1 in more countries that we can count!!!
Demo video: http://www.youtube.com/watch?v=tcrVUBMuclk
Help Kiwi fly around the world all the way from New Zealand to USA in this fantastic game for all ages!
Tilt your device to gain speed, use it to make awesome stunts, unlock awards and earn money. Buy gliders, springs and even a cannon to help Kiwi in his voyage across the globe. Get useful upgrades that will increase your chances of reaching the most ambitious goal: embracing the ultimate flying machine!
Fly Kiwi, Fly! will keep you hooked for hours on end trying to be the best air stuntman... or stuntbird!