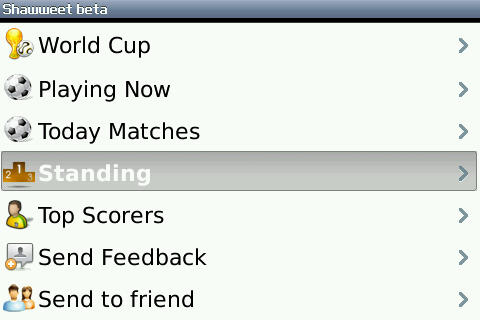 Tag:
Shawweet
Overview :
Model:
Blackberry 82XX Series (240x320) Pearl Flip Devices Models: 8200, 8220, 8230/Blackberry 8350i (320*240) Related Devices Model: 8500, 8520, 8530/Blackberry 89XX Curve Series (480*360): 8900(Javelin), 8910(Atlas)/Blackberry 90XX Bold (Onyx) Series (480*320) Devices Models: 9000, 9020(Onyx)/Blackberry 96XX Tour (Niagara) Series (480*360):9600, 9630, 9650(Tour2), 9700(Bold2) /Blackberry 95XX Storm Series (360*480):9500, 9510, 9520, 9530, 9550(Storm2)/Blackberry Pearl 3G Series (360*400) Devices Models: 9100, 9105
Description:
Shawweet (BETA) is your mobile application to get live football (soccer) scores for world leagues and the FIFA World Cup 2010.Track live event matches, live scores, standings, scorers, comment and more. Your Live Scores results for football (soccer) matches for the World Cup 2010, EUFA Champions League, English Premier League, Spanish League, and Italian League . Find out who's playing who and track live scores and match events. (More leagues will be added soon)
Features
* Football (Soccer) Live Scores on your Blackberry TM Smartphone
* Search matches by date
* World Cup 2010, European Champions League, English Premier League, Spanish League, Italian League
* Follow live match events
* Add your comments on each match
* Get Match Information and more...
Made by: Bberryapp.com