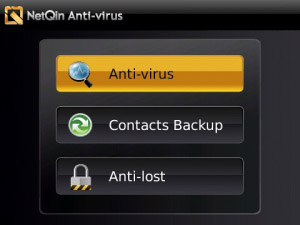 Tag:
9981 apps
NetQin
Antivirus
Overview :
NetQin Antivirus v4.6.2 for blackberry applications
OS 5.0,6.0,7.0
Model: Pearl 9100 3G, Pearl 9105 3G, Curve 8520, Curve 8530, Curve 8900, Curve 8910, Curve 8980, Bold 9000, Curve 9300 3G, Curve 9330 3G, Tour 9630, Bold 9650, Style 9670, Bold 9700, Bold 9780, Bold 9788, Curve 9350, Curve 9360, Curve 9370, Storm 9500/9530, Storm2 9550/9520, Torch 9850/9860, Torch 9800, Bold 9790, Torch 2 9810, Bold 9900/9930, 9981

Description:
NetQin Antivirus FREE detects new applications installed on your system, and check with our cloud security database for known malicious apps. It uses minimum battery, and alerts you when virus, malware or spyware is detected. This app will protect your mobile network, whenever you play with your mobile pet or mobile TV. You can even track your stolen phone on Map with the Anti-Theft feature.
- Antivirus & Security:
* Full scan to block viruses, malware, spyware.
* Real-time protection to protect you from viruses, malware and spyware on your device.
* Viruse database update ensures you get protected from viruses, malware, Trojan, spyware and other mobile security threats.
- Backup and Restore:
* Backup contacts to your SD card or NetQin server securely.
* Restore contacts anytime you want.
* Retrieve contact lists cross-platform, no matter you are using other smartphones before.
- Anti-lost:
* Anti-Theft Help you to find your missing phone.
* Mobile security protection and privacy protection in case of phone lost.
* Remotely locate your missing phone by GPS or SIM card base station, and show it on a map.
* Remotely lock your phone by sending command text message with any other phone.
* Activate a loud alarm to find your missing phone nearby, even if it is on silent or vibrate.
* Remotely wipe the personal data on your phone to protect privacy in the first time, including your contacts, SMS/MMS messages, photos, call log, browser history, calendar, even delete the SD card.
*************************
About NetQin
Founded in 2005 and backed by Sequoia, Mayfield, Fidelity and Ceyuan VC, NetQin Mobile Inc. (referred to as "NetQin" hereafter) is a global leader in mobile security services, delivers proven mobile security solutions based on a cloud-computing model, including anti-virus, anti-malware, anti-spam, privacy protection, data backup and recovery, as well as data management - to approximately 72 million users in more than 100 countries and regions worldwide - to protect them against mobile security threats. As the market leader in mobile security, NetQin holds 67.7% market share of China mobile security market (2010 Whitepaper on China Mobile Security Market by Frost & Sullivan, January 2011), and has received multiple industry awards and honors, including Technology Pioneer 2011 by the World Economic Forum, and the 2009 China Frost & Sullivan Award for Mobile Security Market Leadership.For more information, please visit http://www.netqin.com/en