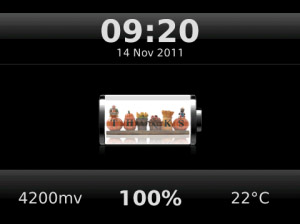 Tag:
99xx
MMMOOO
97xx
98xx
Battery Save
Overview :
Battery Saver v1.5.0 for blackberry apps
OS 4.7,5.0,6.0,7.0
Model : Pearl 9100 3G, Pearl 9105 3G, Curve 8520, Curve 8530, Curve 8900, Curve 8910, Curve 8980, Bold 9000, Curve 9300 3G, Curve 9330 3G, Tour 9630, Bold 9650, Style 9670, Bold 9700, Bold 9780, Bold 9788, Curve 9350, Curve 9360, Curve 9370, Storm 9500/9530, Storm2 9550/9520, Torch 9850/9860, Torch 9800, Torch 2 9810, Bold 9900/9930

Description:
MMMOOO killer App - Battery Saver, Thanksgiving Day Edition is coming!!! Present for every BBers.
Battery Saver Pro is the NO.1 screensaver, it will shows you the battery condition and big time, date...at home screen with top designed UI, and this Unique Thanksgiving edition contains a customized Thanksgiving Day pic as well. :)
And if you need more functions such as more pictures, battery booster... Please press "get full version" button in the app, or search "Battery Saver Pro" at App World, you will find what you want!
Features:
1. Free forever!!
2. Support all popular devices, include all the latest OS7 devices.
3. MMMOOO top tech and top UI design.
4. Show battery volume on Icon, Status Bar, App Name.
Guarantee satisfaction:
If you find