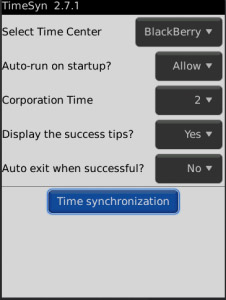 Tag:
bold
9900
torch
TimeSyn
9800
9780
Overview :
free TimeSyn v2.7.0 for blackberry 9780,9800,9900 apps
Description
Friend,do you worry about time not accurate?
Friend,do you regret that you miss appointment from time not accurate ?
Please use TimeSyn, it will release the moment you bother!!!!!
When you restart your device or open the app to manual operation, TimeSyn will re-adjust your time to accurate.
Model:
Blackberry 89XX Curve Series (480*360): 8900(Javelin), 8910(Atlas), 8930, 8950, 8980/Blackberry 90XX Bold (Onyx) Series (480*320) Devices Models: 9000, 9020(Onyx)/Blackberry 96XX Tour (Niagara) Series (480*360):9600, 9630, 9650(Tour2), 9700(Bold2), 9780, Dakota, 9360(Apollo) /Blackberry 95XX Storm Series (360*480):9500, 9510, 9520, 9530, 9550(Storm2), 9570(Storm3), 9800(Torch), 9810/9850/9860(Torch2)/Blackberry Pearl 3G Series (360*400) Devices Models: 9100, 9105, 9670(Style)/Blackberry 99XX (OS 7.0) Series (640*480) Devices Models: 9900, 9930