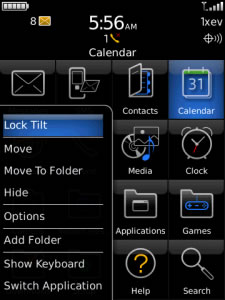 Tag:
Storm
Lock Tilt
storm apps
Stop
Rotation
Overview :
Lock Tilt: Stop Storm Rotation for blackberry storm apps
Model:
Blackberry 95XX Storm Series (360*480):9500, 9510, 9520, 9530, 9550(Storm2)
Description:
Getting tired of your device going into landscape mode when you don`t want it to? Well now there is an application that locks the orientation of your BlackBerry® Storm™!
Set Lock Tilt to read emails in the comfort of your own bed
Set Lock Tilt to landscape view while enjoying your phone`s media
Lock Tilt will omit that annoying delay of landscape to portrait in your Storm device
Application to stop Blackberry Storm from rotating.
*Does not work pass reset and does not work with most applications.