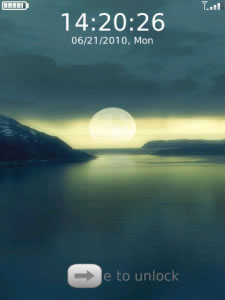 Tag:
storm apps
nUnlock
Overview :
nUnlock v1.3 for blackberry storm apps
Model:
Blackberry 95XX Storm Series (360*480):9500, 9510, 9520, 9530, 9550(Storm2), 9570(Storm3)
Description:
Slide to unlock your BlackBerry® and customize your homescreen in your own way!
The coolest homescreen ever for your BlackBerry.
See easy-to-read large time display at glance, configure your background image easily.
Then,unlock your phone with one smooth slide.
Using winhex to get code.