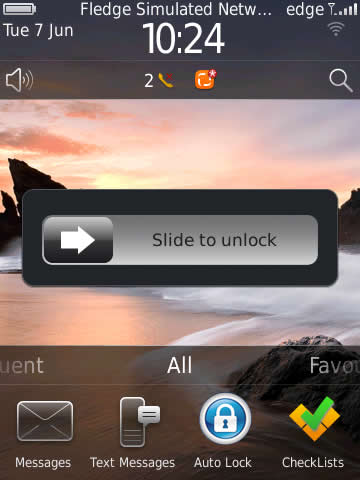 Tag:
9900 apps
Lock
Auto
Overview :
Auto Lock v1.0 for blackberry apps free download
Model:
Blackberry 8350i (320*240) Related Devices Model: 8500, 8520, 8530, 9300(Kepler), 9330/Blackberry 89XX Curve Series (480*360): 8900(Javelin), 8910(Atlas), 8930, 8950, 8980/Blackberry 90XX Bold (Onyx) Series (480*320) Devices Models: 9000, 9020(Onyx)/Blackberry 96XX Tour (Niagara) Series (480*360):9600, 9630, 9650(Tour2), 9700(Bold2), 9780, Dakota, Apollo /Blackberry 95XX Storm Series (360*480):9500, 9510, 9520, 9530, 9550(Storm2), 9570(Storm3), 9800(Torch), 9810/9850(Torch2)/Blackberry Pearl 3G Series (360*400) Devices Models: 9100, 9105, 9670(Style)/Blackberry 99XX (OS 7.0) Series (640*480) Devices Models: 9900, 9930
Description:
Get Auto Lock and eliminate the cases of accidental screen or key presses! Designed especially for OS 5.0, OS 6.0 and up! No more cases of unwanted phone calls or battery drain because of WiFi or GPS turned on by mistake!
WARNING: Auto Lock needs certain permissions to work correctly (unlock device upon incoming calls). You will be asked to grant them the first time application is started. It is safe to grant these permissions, without them Auto Lock WILL NOT WORK properly.
Features:
Automatically locks your device when the backlight goes off or after a configurable timeout.
Zero initial configuration
Integrates with your native BlackBerry® style so that you can easily view all of your notifications (missed calls, unread messages, etc.) without unlocking your device.
Starts automatically when your BlackBerry® is powered on and runs silently in the background. However, you can easily turn it off at any time.
Minimal battery and memory usage
Quick and convenient unlock method
One-click manual lock available anywhere in your device (just assign Auto Lock to one of your convenience keys).
Option to disable auto locking on certain applications (either native or third-party). Very convenient for browsers, maps, readers and others.
Configurable schedule allows you to easily define the time interval in which Auto Lock should be active (if you prefer to not have it running all the time).
Automatically unlocks upon incoming calls
Automatically unlocks upon taking your device out of holster
Automatically unlocks upon connecting USB cable
If you like Auto Lock, please post a review / rating about it. We do appreciate your support!
For issues, comments or suggestions, please contact our support team. Your feedback means a lot to us!