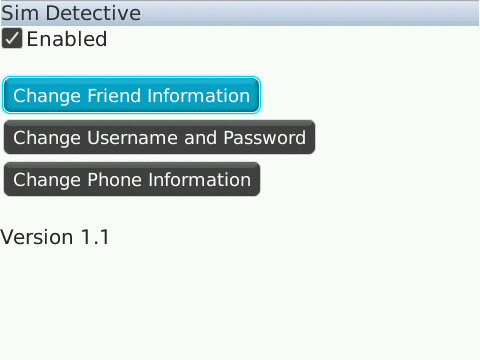 Tag:
Detective
Sim
Overview :
free Sim Detective for blackberry apps download
Description:
SIM Detective is a very useful mobile application that helps track a stolen BlackBerry. SIM Detective BlackBerry app notifies the original user about the network info, including the SIM card number and the respective network operator, once the original SIM card is replaced by another one, by sending a message in a pre-stored backup number of the original owner. The SIM Detective app by Ozzy Productions is compatible with BlackBerry OS 4.5 or above.
How SIM Detective BlackBerry app Works?
SIM Detective app for BlackBerry requires the user to specify the contact phone number and email to which the info needs to be sent. If the BlackBerry is stolen, and the thief replaces the original SIM with a new one, this intelligent mobile app will send a secret message to the specified phone number and email. The said message will have the following parts: a greeting to for you, the date/time of SIM replacement happened, the new user's phone number, corresponding IMSI/IMEI info, and the details about the network operator. This information is enough to commence an attempt to track the stolen BlackBerry, and hopefully the thief himself.
Security
It is possible for the users to change the username/password of the SIM Detective app like in any other application. In fact, the contact details specified in the app can be changed within few clicks. Also, in order to accommodate the possibility of the original user changing a service provider himself, the phone info registered with the SIM Detective BlackBerry app can be changed or updated by the user, by signing-in into the user account.
The app is quite user friendly. The menus are laid out in an easy to use manner, while navigating around is also a cake walk, even for someone using the app for the first time. Given the file size, installing the app does not take up too much memory space either.
Final Words
SIM Detective is certainly a useful app to have in your BlackBerry smart phones. Even though it can't assure that the stolen BlackBerry could be recovered all the time, it gives a sense of security to the user that his/her BlackBerry is safe. And if the thief is not so smart, who knows? You might even get back your BlackBerry. Utilities of the SIM Detective app apart, if to give you a piece of advice, be keen not to lose your BlackBerry! Why the trouble after all?
Model:
Blackberry 82XX Series (240x320) Pearl Flip Devices Models: 8200, 8220, 8230/Blackberry 8350i (320*240) Related Devices Model: 8500, 8520, 8530, 9300/Blackberry 83XX Series (320*240) Curve Devices Models: 8300, 8310, 8320, 8330 / Blackberry 87XX Series (320*240) Devices Models: 8700c, 8700r, 8700f, 8700g, 8703e, 8707, 8707g, 8707v .etc /Blackberry 88XX Series (320*240) Devices Models: 8800, 8820, 8830 .etc /Blackberry 89XX Curve Series (480*360): 8900(Javelin), 8910(Atlas), 8950/Blackberry 90XX Bold (Onyx) Series (480*320) Devices Models: 9000, 9020(Onyx)/Blackberry 96XX Tour (Niagara) Series (480*360):9600, 9630, 9650(Tour2), 9700(Bold2) /Blackberry 95XX Storm Series (360*480):9500, 9510, 9520, 9530, 9550(Storm2)/Blackberry Pearl 3G Series (360*400) Devices Models: 9100, 9105