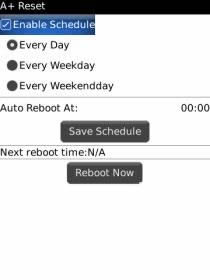 Tag:
Reset
Overview :
A+ Reset 1.1.4 95xx storm apps
Model:
Blackberry 95XX Storm Series (360*480):9500, 9510, 9520, 9530, 9550(Storm2)
Description:
This is the only reboot app that guarantees work on all Blackberry devices, with best performance. No advertisement. Fully refund if you are not happy with it. Completely reboots the Blackberry phone like a battery pull; it can also be used to check memory usage. You can either reboot manually or automatically by setting a schedule. It also logs the reboot history and memory usage at the reboot time.
Support OS version 4.2 to 5.0 or newer. Buy with confidence by downloading the free trial first.
Features:
* Manually reboot Blackberry phones immediately
* Automatically reboot by setting a schedule
* Check memory usage
* Logs the reboot events and memory usage at the reboot time