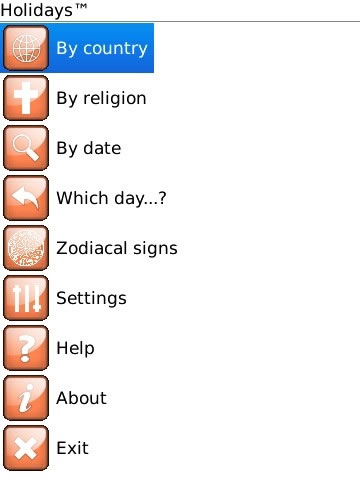 Tag:
Holidays
Overview :
Holidays 2011 v8.0 for blackberry apps download
Description:
Welcome to Holidays
Culturally diverse environments surround us in our day to day activities. Holidays allows you to easily become aware of important holidays for friends, co-workers and customers. They'll be excited when you share in their Holidays- and appreciative when you schedule around them. Also features an Easter Calculator that lets you check Easter Dates until 2020 for both Catholic and Orthodox Church.
Save one, several or all holidays to your BlackBerry Calendar.
Set it up as an ALL DAY EVENT or assign a time that holidays default to in the BlackBerry Calendar.
Add location and categories to events saved to BlackBerry Calendar thus enabling future searches.
Date, day of week and country flag for every holiday.
New version adds support for 2011 and features:
NEW! Today's holidays: see holidays occuring today or on a particular date and save them to BlackBerry Calendar!
Public holidays in 109 countries on all continents including USA, UK, France, Germany, Spain, The Netherlands.
2011 and 2012 religious holidays for major churches:
* Catholic Easter until 2020
* Orthodox Easter until 2020
* Catholic
* Orthodox
* Jewish
* Muslim
* Hindu
* NEW! Coptic
* NEW! Chinese
* NEW! Pagan
Date calculator
Find out the weekday for a particular date.
NEW! Zodiacal Signs
Input birthday and get the zodiacal sign.
Reliable and effective.
Offline operation.
No dependency on web servers and mobile coverage.
Start in just minutes by downloading Holidays- to your BlackBerry
User guide access directly in the application.
Easy to use and quick to master.
Responsive customer support.
Supports the newest devices like Bold, Storm and Tour.
Model:
Blackberry 81XX Series (240*260) Pearl Devices Models: 8100, 8110, 8120, 8130/Blackberry 82XX Series (240*320) Pearl Flip Devices Models: 8200, 8220, 8230/Blackberry 8350i (320*240) Related Devices Model: 8500, 8520, 8530, 9300(Kepler), 9330/Blackberry 83XX Series (320*240) Curve Devices Models: 8300, 8310, 8320, 8330 / Blackberry 87XX Series (320*240) Devices Models: 8700c, 8700r, 8700f, 8700g, 8703e, 8707, 8707g, 8707v .etc /Blackberry 88XX Series (320*240) Devices Models: 8800, 8820, 8830 .etc /Blackberry 89XX Curve Series (480*360): 8900(Javelin), 8910(Atlas), 8930, 8950, 8980/Blackberry 90XX Bold (Onyx) Series (480*320) Devices Models: 9000, 9020(Onyx)/Blackberry 96XX Tour (Niagara) Series (480*360):9600, 9630, 9650(Tour2), 9700(Bold2), 9780, Dakota, Apollo /Blackberry 95XX Storm Series (360*480):9500, 9510, 9520, 9530, 9550(Storm2), 9570(Storm3), 9800(Torch), Torch2/Blackberry Pearl 3G Series (360*400) Devices Models: 9100, 9105, 9670(Style)/Blackberry Playbook