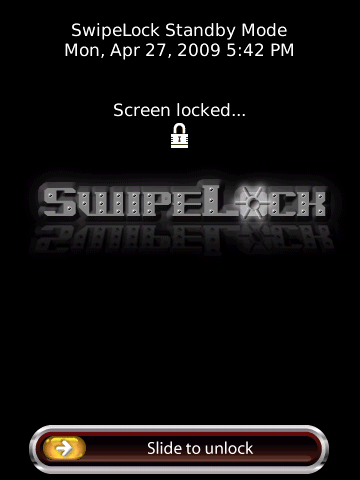 Tag:
SwipeLock
Overview :
SwipeLock (TM) v1.3.7 - blackberry apps download
Model:
Blackberry 95XX Storm Series (360*480):9500, 9510, 9520, 9530, 9550(Storm2), 9570(Storm3), 9800(Torch), Torch2
Description:
Looking for an easier way to secure your Torch or Storm/Storm 2, or just want a slide-to-unlock control similar to an iPhone?
From the makers of TalkLock™ comes the all-in-one screen/device lock for the BlackBerry Torch and Storm/Storm 2.
• Quickly lock your device and unlock using a unique finger swipe pattern on the touch screen – faster and easier than typing an alphanumeric password!
• Alternatively, unlock using the slide-to-unlock control (just like an iPhone) or a convenience key
• Locks the screen during phone calls, just like TalkLock™
• Customizable background image
Price includes 12 months of upgrades.
Lock your device with the press of a key and/or automatically when the backlight goes out
Unlock your device with a unique finger swipe pattern across a 4x4 grid on the screen ("Puzzle Protect" mode) -- faster and easier than typing an alphanumeric password!
Alternatively, unlock using the slide-to-unlock control (just like an iPhone) or a convenience key
Select a security question and enter an answer as a way to unlock your device if you forget your swipe pattern
Locks the screen during phone calls, just like TalkLock™
Easily customizable background image
Compatible with RingScheduler™
Optionally assign Standby Mode to the Lock Key
Optionally allow Voice Dialing while in Standby Mode
Optionally allow the Clock/Bedside Mode to function while in Standby Mode
Optionally set a delay between the time the backlight turns off and the time the device locks
Prevent accidental screen presses while the device is holstered
Lock screens rotate to landscape orientation