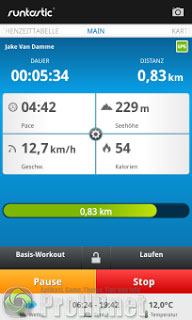 Tag:
Runtastic
Overview :
Runtastic PRO v4.1 for blackberry 10 apps - Runtastic PRO uses GPS to map your sport and fitness activities, such as: running, jogging, or walking. The Runtastic PRO App tracks your cardio workout progress (time, distance, elevation change, speed, calories, and more) to help you reach your training and/or fat burning goals.
Version: 4.1
File Size: 10 MB
Required: BB10 Smartphone OS 10.0.0 or higher
Model:
Blackberry 10 Devices: Blackberry Dev Alpha, Blackberry Z10, Blackberry A10, Blackberry Q10, Blackberry Q5
Description:
Join us today and become part of a global fitness community that is fun and motivational, whether you're looking to improve your general health, build up your cardio endurance, or train for a marathon! Runtastic PRO is a great fit for users of all health and fitness levels.
PRO features:
* Voice feedback during your workout: Get audio feedback for each mile or kilometer completed
* Live tracking: Show your friends and family where you are in your training session, what you've accomplished
* Cheering: Hear live cheers and receive messages from your friends = motivation to run even further
* Auto pause: Session is paused automatically when you stop running (e.g. at a red light or tying your shoe)
* Works for running, jogging, biking, skating, cross-country skiing, and hand biking training
* Routes: Create or find exercise routes on runtastic.com and sync them to your phone
* Colored traces: Different colors on the map indicate training changes, such as: pace, elevation, slope.
* Split table with dynamic mile and kilometer splits
* Calorie goal: Set a specific calorie goal and use the voice feedback to reach your workout goal
* Pace goal: Define your favorite pace, and tailor your training to hit this number
* Geotagging: Take pictures during a workout and see these pictures online with your map trace
* Weather, temperature, and sunrise/sunset data to assist with scheduling and analysis of your training sessions
* Ad free
Features:
* Map your workouts in real-time with built-in GPS and monitor your exercise progress
* Personal training diary and metrics
* Mapping: Detailed live mapping and historic mapping of previous sessions
* Dashboard configuration: Display preferred training statistics
* Graphs: Get charts with altitude, pace, speed and heart rate information from your jog/run
* Integrate your Runtastic activities to your MyFitnessPal account
* Manual entry of workouts: Add treadmill, spinning, and weight lifting workouts
* Monthly and overall metrics for distance, number of workouts, duration and calories burned
* Share your sport activities on Facebook and Twitter
Users are encouraged to save all workouts on www.runtastic.com. By joining the Runtastic online community, you'll get further data analysis, coaching, and encouraging comparisons to friends! All these benefits can help you stay motivated while striving to reach your fat burning, cardio training, or overall health and wellness goals.
Further health and fitness info and tips are provided by Runtastic's Fitness Coach, Lunden, on the NEW YouTube Runtastic Fitness Channel!