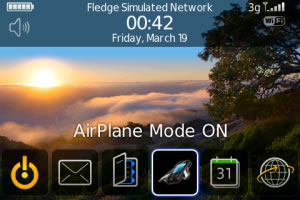 Tag:
curve apps
Airplane
Overview :
AirPlane Mode v1.4.1 for Pearl 3G apps
Description:
On a plane and need to put your BlackBerry® in AirPlane Mode quickly?
AirPlane Mode closes all of the BlackBerry® smartphone s wireless connections with one click.
This application will allow you to continue to use your phone whenever you wish to disable your wireless connections to stop escalating data charges when aboard / when asked to turn off your phone on a plane or any other situation you might require to disable your wireless connections.
When you turn on AirPlane Mode, the following wireless connections/receivers are turned off:
Cellular Voice and Data
Wi-Fi
HOW IT WORKS
Click on the AirPlane Mode icon on your BlackBerry® before take-off.
All wireless connections are disconnected and indicated by a green flight icon.
Click on the AirPlane Mode icon again and it will restore all wireless connections.
Model:
Blackberry 82XX Series (240*320) Pearl Flip Devices Models: 8200, 8220, 8230/Blackberry 8350i (320*240) Related Devices Model: 8500, 8520, 8530, 9300(Kepler), 9330/Blackberry 83XX Series (320*240) Curve Devices Models: 8300, 8310, 8320, 8330 / Blackberry 87XX Series (320*240) Devices Models: 8700c, 8700r, 8700f, 8700g, 8703e, 8707, 8707g, 8707v .etc /Blackberry 88XX Series (320*240) Devices Models: 8800, 8820, 8830 .etc /Blackberry 89XX Curve Series (480*360): 8900(Javelin), 8910(Atlas), 8930, 8950, 8980/Blackberry 90XX Bold (Onyx) Series (480*320) Devices Models: 9000, 9020(Onyx)/Blackberry 96XX Tour (Niagara) Series (480*360):9600, 9630, 9650(Tour2), 9700(Bold2), 9780, Dakota, Apollo /Blackberry 95XX Storm Series (360*480):9500, 9510, 9520, 9530, 9550(Storm2), 9570(Storm3), 9800(Torch), Torch2/Blackberry Pearl 3G Series (360*400) Devices Models: 9100, 9105, 9670(Style)