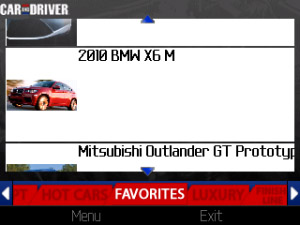 Tag:
car
bold
curve
torch
tour
Driver
Overview :
free Car And Driver v2.8.9 for blackberry apps download
Model:
Blackberry 81XX Series (240*260) Pearl Devices Models: 8100, 8110, 8120, 8130/Blackberry 82XX Series (240*320) Pearl Flip Devices Models: 8200, 8220, 8230/Blackberry 8350i (320*240) Related Devices Model: 8500, 8520, 8530, 9300(Kepler), 9330/Blackberry 83XX Series (320*240) Curve Devices Models: 8300, 8310, 8320, 8330 / Blackberry 87XX Series (320*240) Devices Models: 8700c, 8700r, 8700f, 8700g, 8703e, 8707, 8707g, 8707v .etc /Blackberry 88XX Series (320*240) Devices Models: 8800, 8820, 8830 .etc /Blackberry 89XX Curve Series (480*360): 8900(Javelin), 8910(Atlas), 8930, 8950, 8980/Blackberry 90XX Bold (Onyx) Series (480*320) Devices Models: 9000, 9020(Onyx)/Blackberry 96XX Tour (Niagara) Series (480*360):9600, 9630, 9650(Tour2), 9700(Bold2), 9780, Dakota, Apollo /Blackberry Pearl 3G Series (360*400) Devices Models: 9100, 9105, 9670(Style)/Blackberry 99XX (OS 7.0) Series (640*480) Devices Models: 9900, 9930

Description
Want to feel the excitement and adrenaline of the world's hottest driving machines? Car and Driver brings you the ultimate automotive experience, with exhilarating cars of the past, present and future! Sit back, relax, and watch the coolest cars on the planet grace your phone. Over 100 new images per month, updated weekly, from hot sports cars, luxury, to concept cars - Ferraris, Lamborghinis, Porsches, Bentleys, and more! Download Car and Driver NOW and come feel the rush!