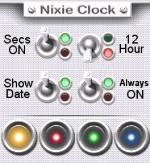 Tag:
Clock
Nixie
9600 apps
Overview :
Model:
Blackberry 82XX Series (240x320) Pearl Flip Devices Models: 8200, 8220, 8230/Blackberry 8350i (320*240) Related Devices Model: 8500, 8520/Blackberry 83XX Series (320*240) Curve Devices Models: 8300, 8310, 8320, 8330 / Blackberry 87XX Series (320*240) Devices Models: 8700c, 8700r, 8700f, 8700g, 8703e, 8707, 8707g, 8707v .etc /Blackberry 88XX Series (320*240) Devices Models: 8800, 8820, 8830 .etc /Blackberry 89XX Curve Series (480*360): 8900(Javelin), 8910(Atlas)/Blackberry 90XX Bold (Onyx) Series (480*320) Devices Models: 9000, 9020(Onyx)/Blackberry 96XX Tour (Niagara) Series (480*360):9600, 9630, 9650(Tour2), 9700(Bold) /Blackberry 95XX Storm Series (360*480):9500, 9510, 9520, 9530, 9550(Storm2)
Description:
Enjoy the elegance and beauty of a Nixie Tube Clock on your BlackBerry. Rich graphical rendering with glass tubes containing a wire-mesh anode and multiple cathodes. Enjoy the real tube as it was designed in the 1950's. Automatically launches when you charge your device!
Features:
Very high resolution Nixie tube, using the entire width of your screen for better results.
12 or 24 hour time modes
4 different Nixie tubes to choose from (amber, red, green, blue)
Always On option (the screen won't turn off)
Optional date on the main screen
Auto launch when charging device
Adjustable brightness.