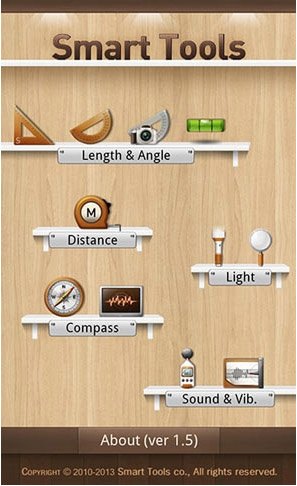 Tag: Smart Tools
Overview :


Smart Tools is a very powerful multi-functional measuring Tools, including the following measurement funcition,the length, distance, Angle, compass, Smart compass, noise intensity, vibration intensity .



Version: 1.6.2a
Model:

Blackberry 10 Devices: Blackberry Dev Alpha, Blackberry Z10, Blackberry Z15, Blackberry Z30, Blackberry A10, Blackberry Q30, Blackberry Q10, Blackberry Q5

Blackberry Playbook: Tablet: 1.0.0 or higher / 2.0.0 or higher

Description:

Smart Tools is a complete package of 5 app sets. It includes 5 Pro sets for a total of 15 tools. In a word, All-in-One.

Set 1: Length, Angle, Slope, Level, Thread - Smart Ruler Pro

Set 2: Distance, Height, Width, Area - Smart Measure Pro

Set 3: Compass, Metal detector, GPS - Smart Compass Pro

Set 4: Sound level meter, Vibrometer - Sound Meter Pro

Set 5: Flashlight, Magnifier, Mirror - Smart Light Pro

For more information, see the manual for each of the apps, watch the YouTube video and visit the blog: http://prohp.net

Do you want to get more tools and features? Please send an email. I'll reply to it ASAP.

I hope my apps are useful to your SMART Life. Thank you.

What's New

v1.6.2a : latitude bug fix.