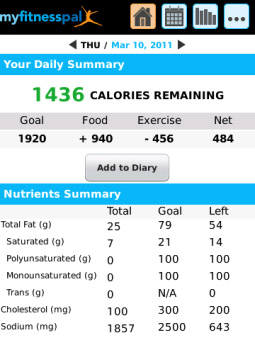 Tag:
Diet Tracker
Calorie
Overview :
Calorie Counter and Diet Tracker 1.1.13 - Featured in the NY Times, Wall Street Journal, USA Today, Family Circle, Marie Claire, NBC, CNET, Shape, the Today Show and more.
Version: 1.1.13
File Size: 3 MB
Required: 5.0.0 or higher
Model: Blackberry OS 7.1 Series: P'9981, 9860, 9850, 9810, 9620, 9360, 9350, 9320, 9310, 9220, 9930, 9900, 9790 / Blackberry OS 7.0 Series: P'9981, 9860, 9850, 9810, 9380, 9360, 9350, 9930, 9900, 9790 / Blackberry OS 6.0 Series: 9800, 9670, 9105, 9100, 9330, 9300, 9780, 9700, 9650 / Blackberry OS 5.0 Series: 9630, 9800, 9530, 9500, 9550, 9520, 9105, 9100, 9330, 9300, 8980, 8900, 8530, 8520, 8350i, 8330, 9700, 9650, 9000

▌WHY WE'RE BETTER THAN OTHER APPS
■ Largest food database of any BlackBerry® calorie counter – over 1,200,000 foods and growing daily.
■ Easiest and fastest food entry – remembers your favorites, add multiple foods at once, save and add entire meals, and more.
■ Fully syncs with the web, so you can log from your computer or your phone, which ever is more convenient. Plus your data is backed up online so you never lose it.
■ Comprehensive feature set – create your own custom foods and exercises, track all major nutrients, progress reports, customized goals based on your diet profile, and more.
■ Very stable - well-written app that is a pleasure to use with great customer support
■ IT WORKS – the success of our users shows that we can help you lose weight
▌FOOD
■ 1,700,000+ food database, Updated daily.
■ Track all major nutrients: calories, fat, protein, carbs, sugar, fiber, cholesterol, and more
■ Frequently used foods automatically remembered for easy access
■ Save and reuse entire meals
■ Recipe calculator - Enter your own recipes and calculate their nutritional contents
■ Add multiple items at once
■ Create an unlimited number of custom foods
▌EXERCISE
■ Over 350 exercises
■ Track both cardio and strength training, including sets, reps, and weight/rep
■ Create an unlimited number of custom exercises
■ Enter your own calorie amounts – great for HRM's or exercise equipment with calorie reports
▌GOALS
■ Customized goals based on your specific diet profile – age, gender, activity level, etc.
■ Enter your own goals if you've gotten specific recommendations from a doctor, nutritionist, etc.
▌REPORTS
■ Track your weight, measurements and more
■ View charts of your progress over time for motivation
■ Daily nutritional summary with all major nutrients
■ View more detailed reports online at www.myfitnesspal.com
▌ON THE WEB AT WWW.MYFITNESSPAL.COM
■ Get support and motivation from our huge community of millions of dieters just like you
■ Entries are automatically synced to the web and vice versa, so you can log online or on your phone, whichever is more convenient
■ Automatically post your progress to Twitter and Facebook (optional)
Note: a MyFitnessPal.com account is required to synchronize and safely backup your data. You can create your account for free within the app.