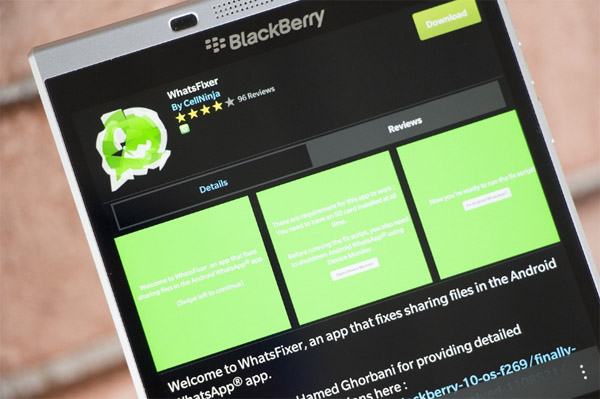 Tag:
WhatsFixer
Overview :
Android WhatsApp app for BlackBerry 10 users (WhatsFixer)
While WhatsApp for BlackBerry 10 is still chugging along, some folks have moved onto using the Android version of WhatsApp on their BlackBerry 10 smartphones. The move is not without some issues, however, key among them being the problems that arise when trying to send media files. Now though, just like WAA Fixer before it, WhatsFixer has been released for BlackBerry 10 and fixes sharing files in the Android WhatsApp app.
CellNinja has released the app with the help of Hamed Ghorbani and all it really requires is downloading to an SD Card, downloading WhatsFixer from BlackBerry World and running the app. After that, you'll be able to send media files through the Android version of WhatsApp on BlackBerry 10 more reliably than before. Not a perfect solution but if WhatsApp does follow through with their shutdown of the BlackBerry 10 app on December 31, 2017, at least you have another option to continue using WhatsApp.