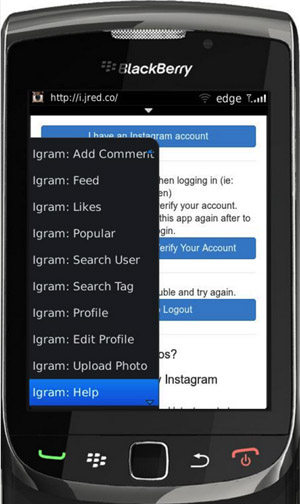 Tag:
Instagram
9800 apps
Client
Overview :
Client for Instagram is the only app that lets you Post Pictures to Instagram, Comment, and Like photos on your own Instagram account.
Note: The latest version is now a native application and does not use the browser anymore. This was needed because of changes with Instagram and the whole app was rewritten. This is like a new app and there will be fixes and more features added.
With the app you will be able to :
- Register a new account on Instagram
- Post photos to Instagram
- Comment on posts
- Like photos
- View popular photos from Instagram
- Search users
- Follow/Unfollow Users
- View your own Instagram feed
When you run the app you will see a new menu item in the camera preview and photo browser screen called "Post to Instagram". This will let you add a note and upload the photo to your Instagram feed.
While viewing photos in the feed you can click on the 'Comments' button to see all of the comments. In the comments screen there will be a new menu item in your BlackBerry menu "Comment on Instagram" which will let you add your own comment.
This app is not related to Instagram™ and was not developed by the Instagram™ developers.

Supported Devices: 9800