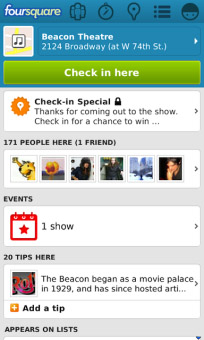 Tag:
FourSquare
Overview :
foursquare v5.5.29 for blackberry os5.0-7.1 apps – Foursquare helps you and your friends make the most of where you are. Join the over 25 million people who are already on Foursquare and download the free app!
✓ Share and record the places you visit.
✓ Search for the best places to go.
✓ Get personalized recommendations and deals based on where you and friends have been.
✓ Discover insider tips and lists from local experts, brands, and celebrities.
What's New:
Further improvements to location support and fixed a potential issue with user photos not being displayed properly in the find friends screen.
Version: 5.5.29
File Size: 2 MB
Required: BlackBerry OS 5.0 or higher
Model:
Blackberry OS 7.1 Series: P'9981, 9860, 9850, 9810, 9620, 9360, 9350, 9320, 9315, 9310, 9220, 9930, 9900, 9720, 9790 / Blackberry OS 7.0 Series: P'9981, 9860, 9850, 9810, 9380, 9370, 9360, 9350, 9930, 9900, 9790 / Blackberry OS 6.0 Series: 9800, 9670, 9105, 9100, 9330, 9300, 9780, 9700, 9650 / Blackberry OS 5.0 Series: 9630, 9800, 9530, 9500, 9550, 9520, 9105, 9100, 9330, 9300, 8980, 8900, 8530, 8520, 8350i, 8330, 9700, 9650, 9000