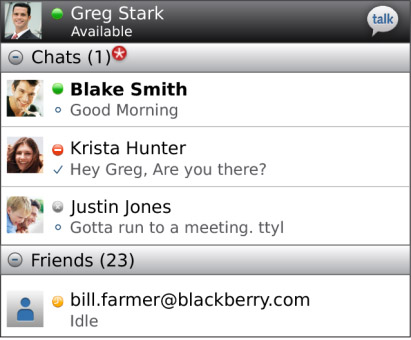 Tag:
9860 apps
Google Talk
Overview :
Google Talk v3.0.0.41 for bb os7.0-7.1 apps - Google Talk for BlackBerry® smartphones allows you to chat in virtual real time with your instant messaging IM contacts when and where you want to -- not just when you're in front of your computer. It has many of the same features you already use with Google Talk on your desktop.

Version: 3.0.0.41
File Size: 1.1 MB
Required: 7.0.0 - 7.1
Model: Blackberry 9220, 9300(Kepler), 9320, 9330, 9350, 9360, 9370, 9380, 9620, 9790, 9350, 9360, 9370, 9850, 9860, 9900, 9930, p9981



Description:
We've updated and improved the new app. Here's how:
- Improved chat experience
- Improved notification when client is logged out by IM service
- Icon and other graphic updates for higher resolution screens
Other features include:
-Fast and reliable messaging
-Your Friends presence updates e.g. Available or Offline
-The ability to customize your own status messages
-Emoticons to express yourself
-The ability to personalize Google Talk with a buddy picture, use an image of yourself or display your favorite icon
-Communicate with other Google Talk users even while using other applications on your BlackBerry®
-Set up custom notifications for new Google Talk messages.