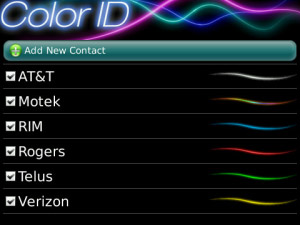 Tag:
Color ID
Overview :
Color ID v2.2.4 for blackberry os7.0 apps
size : 603 KB
model: Torch 9850/9860, Curve 9380, Bold 9790, Torch 2 9810, Bold 9900/9930, 9981
Description:
★ Now with support for BBM™ messages by INDIVIDUAL CONTACT!
You wanted it, you asked for it, and now it's finally here. (*Requires OS 5 or above)
★ Go here to view how to apply Color ID to BBM contacts: http://bit.ly/zymwC7
★ Color ID™ is the ORIGINAL & BEST LED notifier app, period! Forget copy-cat apps that drain memory and all look the same. You need and deserve the most downloaded and TRUSTED LED color customizer app for your BlackBerry®.
★ Syncing with your BlackBerry® Address Book is easy! Just start typing a name from your Address Book and it will autofill the rest for you!
★ With over 100 possible color combinations, it's totally up to you - Maybe Yellow and Orange for your company colors, Disco for your boyfriend/girlfriend, or maybe Jersey Shore for your party people. You'll always know at a glance who's contacting you with Color ID.
★ Professional UI, functionality and previews by BlackBerry® professionals - not the corny cheap look of the other imitator apps that all look like they were made by the same company (and probably were).
★ This FREE version allows TWO custom contact settings.
★ Please UPGRADE TO FULL VERSION to customize an unlimited number of contacts! http://appworld.blackberry.com/webstore/content/2457
★ Go here to view how to apply Color ID to BBM contacts: http://bit.ly/zymwC7
★ Updates are FREE and encouraged! Please contact us if you have any questions or issues: support@motekmobile.com
★ Additional help & info to common questions can be found here: http://support.motekmobile.com/wiki/index.php/Color_ID
We hope you like the bb apps. ENJOY!!