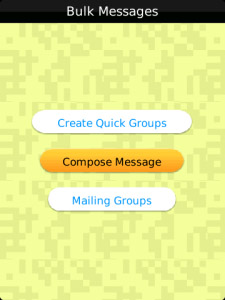 Tag:
Pace MobiTec
Bulk Message
Overview :
Bulk Messages v1.0.0 - Send Single SMS Text Message To Multiple Address Book Contacts
OS 5.0,6.0,7.0
size: 147 KB
model: Pearl 9100 3G, Pearl 9105 3G, Curve 8520, Curve 8530, Curve 8900, Curve 8910, Curve 8980, Bold 9000, Curve 9300 3G, Curve 9330 3G, Tour 9630, Bold 9650, Style 9670, Bold 9700, Bold 9780, Bold 9788, Curve 9220, Curve 9350, Curve 9360, Curve 9370, Storm 9500/9530, Storm2 9550/9520, Torch 9850/9860, Torch 9800, Curve 9380, Bold 9790, Torch 2 9810, Bold 9900/9930, 9981
Description:
Easily send SMS/Email/BBM/PIN to groups,to handpicked set of contacts or to distribution lists. Once you create a list, you no longer have to select contacts one-by-one for a group message. Simply choose a group name and you are ready to send!
These groups can be small or very large (Bulk SMS) may be of hundreds or thousands of contacts. It is ideal when you need to send the same message to any number of contacts.

It also allows you to create new groups as well as modify your existing groups and contacts.
Features:-
* Send mass text messages
* Easy and quick interface
* Select or deselect single recipients in group list
* Create/Delete/Rename group
* Add contact/Delete contact/Rename Contact