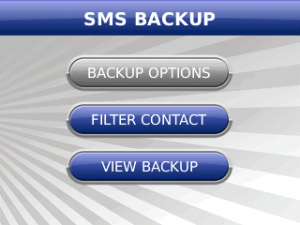 Tag:
SMS Backup
Ardour
Overview :
free SMS Backup v1.0.0 for blackberry apps world OS 5.0,6.0,7.0
size: 207 KB
model: Pearl 9100 3G, Pearl 9105 3G, Curve 8520, Curve 8530, Curve 8900, Curve 8910, Curve 8980, Bold 9000, Curve 9300 3G, Curve 9330 3G, Tour 9630, Bold 9650, Style 9670, Bold 9700, Bold 9780, Bold 9788, Curve 9350, Curve 9360, Curve 9370, Storm 9500/9530, Storm2 9550/9520, Torch 9850/9860, Torch 9800, Curve 9380, Bold 9790, Torch 2 9810, Bold 9900/9930, 9981
Description:
SMS Backup is a simple BlackBerry app that backs up your device's text messages.
SMS Backup app will forward all your incoming and outgoing SMS messages to email inbox of your choice and on your device. Never ever lose an SMS and get them forwarded to one of your email addresses and also get them saved in the application itself.
Automatically keeps a backup of sent and received text messages via your email account and also stores them on your device. SMS Backup App takes Backup of all the Text messages on your device and also sends e-mail to a particular E-mail either on Real time or on Daily basis.
You can view backup contents on your phone as well as email, and choose to backup selected conversations only.
Features:
1.Take Backup on Device as well as Email account
2.Filter SMS from particular contacts
3.Threaded Chat Style view of all the SMS
4.Schedule Backup time
5.Configurable email address for forwarding messages