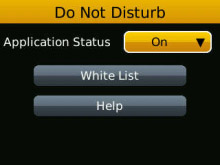 Tag:
Do Not Distu
sri​dgam​es
Overview :
Do Not Disturb v1.0.0 for blackberry apps
OS 5.0,6.0,7.0
size: 451 KB
model: Pearl 9100 3G, Pearl 9105 3G, Curve 8520, Curve 8530, Curve 8900, Curve 8910, Curve 8980, Bold 9000, Curve 9300 3G, Curve 9330 3G, Tour 9630, Bold 9650, Style 9670, Bold 9700, Bold 9780, Bold 9788, Curve 9350, Curve 9360, Curve 9370, Storm 9500/9530, Storm2 9550/9520, Torch 9850/9860, Torch 9800, Curve 9380, Bold 9790, Bold 9900/9930, 9981
Description:
Do Not Disturb is an application that allows you to silent your phone automatically and bars the Calls/Mails sound to disturb you at a specific time. You just have to set a time slot and your device will be silent for that particular time.
It includes the feature of time slot scheduling, so you can schedule time-slot accordingly.
A simple and self explanatory UI makes the application easy to use.
With the concept of white list, all the priority/important contacts will be notified. So from now onwards, feel free from unwanted interruption and also be assured of not missing out on important phone calls.
Do not disturb is a way to take care of your important time. So, whenever planning for an important meeting, or want to spend time with your family, ask your phone Not to Disturb.
Features:
*Easy to use
*User defined time slots.
*Unlimited Time Slots.
*White List Numbers.
*Automatic Repetition of time slot.