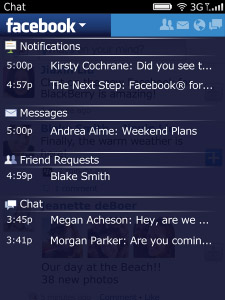 Tag:
Facebook
9000 apps
Overview :
Facebook v1.9.0.28 for OS 4.5-4.6 apps
size: 1.32 MB
model: Pearl 8100, Pearl 8110, Pearl 8120, Pearl 8130, Pearl Flip 8220, Pearl Flip 8230, Curve 8300, Curve 8310, Curve 8320, Curve 8330, Curve 8350i, Curve 8520, Curve 8530, 8700, 8707, 8800, 8820, 8830, Curve 8900, Curve 8910, Curve 8980, Bold 9000
Description:
Facebook® for BlackBerry® smartphones makes it even easier to connect and share while you're on the go. Because the app is designed to work seamlessly with your BlackBerry smartphone, you can create and review Facebook chats and messages right from your BlackBerry message list. Get messages and updates as they arrive, see your friends' latest profile pictures when they call or email, accept friend requests and event invites, and then view them in your BlackBerry calendar. Use Facebook Places to find out where your friends have checked in, and let them know where you are. And with Facebook Chat on the go, you can connect with your Facebook friends instantly – when and where you want to. Take socializing to a whole new level with Facebook for BlackBerry smartphones, and discover all the great ways you can stay on top of your social life.
What's New in Facebook v2.0.0.58:
This maintenance release includes general fixes to the infrastructure of the Facebook for BlackBerry smartphones application.
Facebook 2.0 is for BlackBerry Device Software 5.0 or higher. Facebook v1.9 is available for BlackBerry Device Software 4.5-4.7.
BBM-Connected functionality is currently in beta. Visit www.blackberry.com/beta for details and to see if you are eligible to participate.
For all technical support with Facebook for BlackBerry smartphones, please visit http://www.blackberry.com/support/facebook. For billing issues and technical support options related to App World only, please visit http://www.blackberry.com/support/appworld.