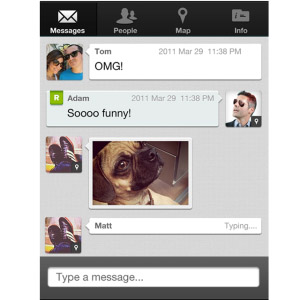 Tag:
Messenger
9981 apps
PingMe
Overview :
PingMe Messenger v1.6.10 for blackberry apps (OS 5.0,6.0,7.0)
size: 2.66 MB
model: Pearl 9100 3G, Pearl 9105 3G, Curve 8520, Curve 8530, Curve 8900, Curve 8910, Curve 8980, Bold 9000, Curve 9300 3G, Curve 9330 3G, Tour 9630, Bold 9650, Style 9670, Bold 9700, Bold 9780, Bold 9788, Curve 9350, Curve 9360, Curve 9370, Storm 9500/9530, Storm2 9550/9520, Torch 9850/9860, Torch 9800, Curve 9380, Bold 9790, Torch 2 9810, Bold 9900/9930, 9981
Description:
PingMe is the fastest way to stay connected, socialize and share multi-media content with your closest friends.

PingMe KEY FEATURES:

* CROSS PLATFORM: Works on iOS, Android and BlackBerry® devices. Windows Phone 7 coming soon.

* BBM CONNECTED: One of the first BBM Connected app! You can connect friends and colleagues on BBM easily.
* VOICE NOTES: Record a voice note. You can sing a birthday song or record a secret voice memo. Be creative!
* REAL TIME MESSAGE RECEIPTS: See typing indication, and Sent/Delivered/Read message notifications.

* GROUP CHAT: Create dynamic circles/groups as you go.

* EASY REGISTRATION: No username/password required or hard to remember PINs. Your phone number is your ID.

* COMPLETELY FREE: Free forever. Unlimited messaging, including international usage.

* NEWS FEED: Instantly turns your address book social with updates from your closest friends.

* GEO-LOCATION: Find friends nearby with geo-location enabled messages.

* PUSH NOTIFICATIONS: Never miss a message. PingMe tells you when someone sends you a message, even when PingMe is closed. Since we're utilizing BlackBerry Push Service, your phone battery will thank you.

* SIMPLE FRIEND FINDER: PingMe makes it easy to connect with all your friends through your address book, Facebook, direct phone numbers, or the PingMe network.

Enjoy all these PingMe benefits today. And stay tuned for more exciting features to come. PingMe – a better way to share and connect with friends.
If you like the blackberry apps, Please share to your friends!