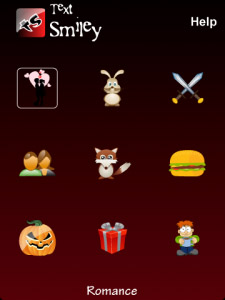 Tag:
9900 apps
Text Smiley
AFBB
Overview :
Text Smiley v1.8.0 for blackberry apps free download
OS 4.7,5.0,6.0,7.0
size: 318 KB
model: Pearl 9100 3G, Pearl 9105 3G, Curve 8520, Curve 8530, Curve 8900, Curve 8910, Curve 8980, Bold 9000, Curve 9300 3G, Curve 9330 3G, Tour 9630, Bold 9650, Style 9670, Bold 9700, Bold 9780, Bold 9788, Curve 9350, Curve 9360, Curve 9370, Storm 9500/9530, Storm2 9550/9520, Torch 9850/9860, Torch 9800, Curve 9380, Bold 9790, Torch 2 9810, Bold 9900/9930, 9981
Description:
Now you can insert Text Smileys Art messages quickly and easily while Creating SMS, EMAIL, IM OR BBM!
Text Smiley comes with enough predefined faces to express your every mood. Whether happy or sad, angry or glad, you can let your Text recipient know what are you feeling!
For Inserting Text Smiley, you just have to click on BlackBerry® Menu Item - Insert Text Smiley OR you can go to Download Folder - Text Smiley and copy the Smiley on to your Clipboard and just paste it to the Desired Text Field!
If you like the blackberry apps, Please share to your friends!!