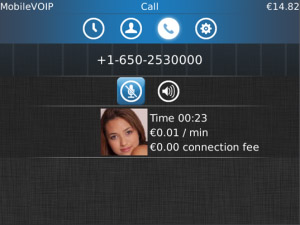 Tag:
MobileVOIP
Overview :
free MobileVOIP v2.1.0 for blackberry apps
OS 5.0,6.0,7.0
size:2.63 MB
model:Pearl 9100 3G, Pearl 9105 3G, Curve 8520, Curve 8530, Curve 8900, Curve 8910, Curve 8980, Bold 9000, Curve 9300 3G, Curve 9330 3G, Tour 9630, Bold 9650, Style 9670, Bold 9700, Bold 9780, Bold 9788, Curve 9350, Curve 9360, Curve 9370, Storm 9500/9530, Storm2 9550/9520, Torch 9850/9860, Torch 9800, Curve 9380, Bold 9790, Torch 2 9810, Bold 9900/9930, 9981



Description:
MobileVoip lets you make cheap calls to national or international destinations. Save on your mobile phone costs right away, by using this Mobile voip calls app! MobileVoip offers free 3G calls or WiFi calls for users!
Simply install our MobileVoip app, register with one of the many supported VOIP brands and place FREE calls to your friends and family abroad. If your selected destination is not among the FREE destinations, using mobile voip calls enable you to call them at almost no costs. MobileVoip offers either FREE calls or the cheapest calls you'll find on the market!
Known issues:
-3G BIS Connections will not work. Please use WiFi.
-CDMA devices running OS6 and lower don't support VOIP calls. Text Messaging and Local Access still works.
Features:
- Make SIP phone calls
- Use your own contacts from within the app
- Connect to Internet using 3G, WiFi, UMTS
- Place FREE calls to a selection of destination.
- Enjoy the cheapest international calls to any other destination.
Stop spending too much money on your phone calls; use free 3G calls or free WiFi calls with MobileVoip. MobileVoip is the best FREE calls app you'll find on the market!
Supported VoIP Brands:
12Voip
Actionvoip
BudgetVoipCall
CallPirates
CallingCredit
CheapBuzzer
CheapVoipCall
Cheapvoip
CosmoVoip
DialCheap
DialNow
DiscountCalling
Easyvoip
FreeCall
Freevoipdeal
Frynga
GlobalFreecall
HotVoip
InternetCalls
Intervoip
Jumblo
JustVoip
LowRateVoip
MegaVoip
NetAppel
NoNoh
PennyConnect
PoivY
Powervoip
RebVoice
Rynga
SMSDiscount
SipDiscount
SmartVoip
SmsListo
SparVoip
StuntCalls
Telbo
VoipBlazer
VoipBuster
VoipCaptain
VoipCheap
VoipCheap UK
VoipChief
VoipDiscount
VoipGain
VoipJumper
VoipMove
VoipRaider
VoipSmash
VoipStunt
VoipWise
VoipZoom
Voipblast
WebcallDirect

** List of countries you can make cheap international calls to: Afghanistan, Albania, Algeria, Andorra, Angola, Antarctica, Argentina, Armenia, Australia, Austria, Azerbaijan, Bahrain, Bangladesh, Belarus, Belgium, Belize, Bolivia, Bosnia, Botswana, Brazil, Bulgaria, Burkina Faso, Burundi, Cambodia, Cameroon, Canada, Cape Verde, Cayman Islands, Central African Republic, Chad, Chile, China, Colombia, Comoros, Congo, Costa Rica, Cote d'Ivoire, Croatia, Cuba, Cyprus, Denmark, Dominican Republic, Ecuador, Egypt, El Salvador, Guinea, Eritrea, Estonia, Ethiopia, Finland, France, Polynesia, Gabon, Gambia, Georgia, Germany, Ghana, Greece, Guatemala, Haiti, Honduras, Hongkong, China, Hungary, Iceland, India, Indonesia, Iran, Iraq, Ireland, Israel, Italy, Jamaica, Japan, Jordan, Kazakhstan, Kenya, South Korea, North Korea, Kuwait, Kyrgyzstan, Laos, Latvia, Lebanon, Lesotho, Liberia, Libya, Liechtenstein, Lithuania, Luxembourg, Macao, China, Macedonia, Madagascar, Malawi, Malaysia, Maldives, Mali, Malta, Martinique, Mauritania, Mauritius, Mexico, Moldova, Monaco, Mongolia, Montenegro, Morocco, Mozambique, Myanmar, Namibia, Nepal, Netherlands, New Caledonia, New Zealand, Nicaragua, Niger, Nigeria, Norway, Oman, Pakistan, Palau, Palestine, Panama, Papua New Guinea, Paraguay, Peru, Philippines, Poland, Portugal, Puerto Rico, Qatar, Romania, Russia, Rwanda, Saudi Arabia, Senegal, Serbia, Seychelles, Sierra Leone, Singapore, Slovakia, Slovenia, Somali, South Africa, Spain, Sri Lanka, Sudan, Suriname, Swaziland, Sweden, Switzerland, Syria, Taiwan, Tajikistan, Tanzania, Thailand, Togo, Tokelau, Tonga, Trinidad and Tobago, Tunisia, Turkey, Turkmenistan, UAE, Uganda, Ukraine, UK, USA, Uruguay, Uzbekistan, Venezuela, Vietnam, Yemen, Zambia, Zimbabwe
hope you like this apps , download enjoy it..